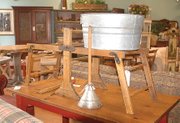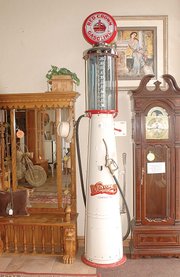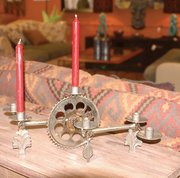 If you go
Shopping for recycled
treasures in Steamboat:
■ Annie's Home Consignments, 1755 Central Park Drive
■ Betty's Bargain Barn, 2780 Acre Lane
■ Boomerang Sports Exchange, 1125 Lincoln Ave.
■ Calamity Pass, 908 Lincoln Ave.
■ Deja Vu Boutique, 624 Lincoln Ave.
■ Finders Keepers, 1120 S. Lincoln Ave.
■ Jack & Jill, Loggers Lane
■ LIFT-UP of Routt County, 2125 Curve Plaza
■ Mandala Yoga Apparel, 13th Street
■ Plan B, 2400 Lincoln Ave.
■ Rummagers, 1103 Lincoln Ave.
■ Steamboat Home Consignment, 1025 Lincoln Ave.
■ Steamboat Moxie Home Consignments and Design, 1055 Shield Drive
■ Twice as Nice, 1306 Lincoln Ave.
Steamboat Springs — Spring is the best time of year for Annie Tisch at her Steamboat Springs consignment store.
"This is when people go through their farm sheds and garages and bring in unusual things," Tisch said.
For people whose mothers have a dry sense of humor, or perhaps a mom who is deeply committed to sustainable living, Tisch has a definite curiosity prominently displayed in the front of Annie's Home Consignments in Central Park Plaza this month.
Just in time for Mother's Day giving, she is offering an antique wooden washtub stand. And really, it's just as appropriate for Father's Day giving.
But don't be surprised if you don't recognize it at first glance; the beautifully aged wooden stand was meant to hold side-by-side wash tubs, one for hot soapy water and the other for rinsing, in an era when laundry was done by hand. The stand, made in Erie, Pa., is available for a little more than $100, and for another $22.50, one can purchase a long-handled Ward Vacuum Washer, meant to allow homemakers to agitate the laundry.
The antique most likely won't be put to use in the laundry, but people with a bent for interior design will find a way to repurpose it as plant stand or coffee table.
Steamboat has 14 consignment stores, each with its own niche. And they cooperate so well that many hand out a hand-drawn map with location and contact information for each store so destination shoppers can make a day of it.
For people who are serious about finding a retro gift for Father's Day, Plan B, in a little strip mall on Lincoln Avenue west of downtown, is a hot spot. This is where you'll find gas station collectables, taxidermied critters, vintage slot machines and tools.
Partner Kevin Dyche, of Plan B, sold a Rock-Ola jukebox to an auto dealer in Pasadena, Calif., for $8,000 this month.
The showpiece in the front of the shop right now is a towering antique Red Crown gasoline pump that has its historic roots in Toponas. The fully restored gas pump would make Frank and Mike on the History's Channel's hit reality show "American Pickers" pull their wallets out in an instant.
Dyche said he used to prowl auctions of storage lockers for new items suitable for a Steamboat man cave, but the popularity of the reality show "Storage Wars" on A&E TV has overwhelmed auctions in the area.
Beautifully displayed clothing items at prices for every budget are the strength of Deja Vu Boutique, 624 Lincoln Ave. next to the Old Town Pub and toward the back of Lincoln Shopping Center.
For a cowgirl who has her calendar marked for the first weekend of the Steamboat Springs Pro Rodeo Series on June 15 and 16, there are some interesting options.
Manager Jen Latham pulled together a rodeo ensemble that included a barely worn studded denim jacket by Big Star for $27, a pair of tooled Lucchese clogs (think Euro cowboy boots) that are priced at $64 right now but will drop to $16 if they haven't sold by June, a straw hat that will drop in price to $14 within a week and even a beaded concho bolo tie.
Latham said owner Katie Gaylord is committed to recycling and reusing clothing.
"We have 2,000 consignors," Latham said. "If you're not using it, someone else will."
Steamboat Home Consignment, 1025 Lincoln Ave. in downtown Steamboat, is the place to go for sophisticated antique design pieces, and Steamboat Moxie Home Consignments and Design, 1855 Shield Drive on the west side just south of Ace at the Curve, is the place to scout for contemporary design pieces.
This last discovery, from Moxie, isn't technically a consignment item, but it definitely embodies the recycling ethic. And since this is Bike Town USA, it couldn't be passed over.
Moxie's Steve Weary pointed out two different sets of steel candleholders made from old bicycle parts. One is welded together with the candle cups on a set of handlebars. The second, priced at $48, uses a crank set as its centerpiece and can accommodate six candles.
The selling floors of Steamboat's most appealing consignment stores are designed to lead customers on a journey, and in many cases, it's necessary to make several laps in order to come close to noticing all of the merchandise. And the constant churn of items keeps the stores looking fresh.
Or as Tisch says about her business, "It's never the same store twice."
To reach Tom Ross, call 970-871-4205 or email tross@SteamboatToday.com