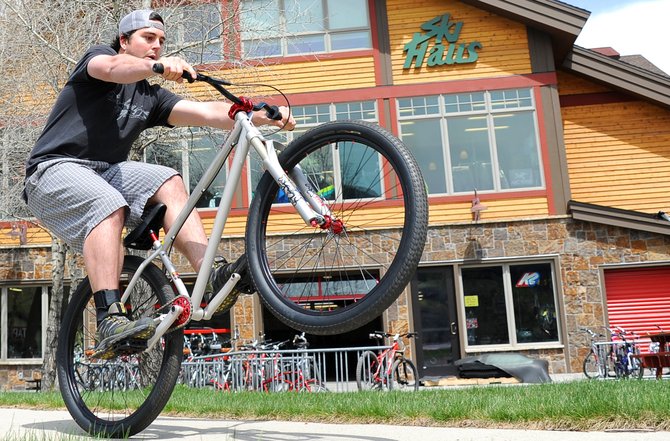 Season's bikes offer plenty of new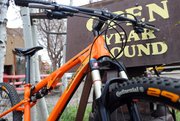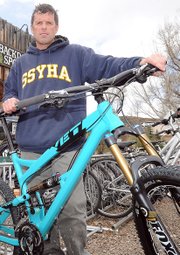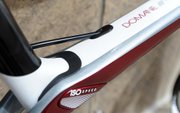 Steamboat Springs — It's not as simple as saying, "What's old is new."
The Class of 2012 won't go down as the most innovative of mountain bike classes, Orange Peel Bicycle Service's Brock Webster explained. Sure, there are some new ideas, but he said the most significant changes in his shop's top-end bikes have come for road bikes.
The features that grace some of this season's sweetest mountain bikes have been around, from 29-inch wheels to light frames and dynamic suspensions.
What is new is that all those advantages now are more accessible than they've ever been. The jaw-dropping technologies that even last year were reserved for the ultimate, high-end rides now are becoming standard options on more mid-level setups.
There are plenty of eye-popping additions to the 2012 frames, but Webster and other bike shop owners across Steamboat Springs said, "Heads up." Some previously forgettable frames now are well worth a spin and well worth the spend thanks to a steady trickle-down effect.
Maturation process
The Salsa Spearfish II is a mountain bike even Ronald Reagan could love, it's so packed with recent trickle-down technology.
The luminescent orange Spearfish II, available at Orange Peel for $2,649, fits in the middle of the mountain bike spectrum pricewise, Webster explained. It packs plenty of features only found in upper-tier frames until recently, however. The dual suspension beast packs 29-inch wheels. That's nothing exactly new — Orange Peel's been carrying 29ers for more than a decade. Still, the innovation, which offers stability on rough terrain but at times at the cost of maneuverability, has only recently swept across the mountain bike economic spectrum.
"The majority of sales nationwide are 29-inch bikes now," Webster said.
Orange Peel said the Spearfish II offers a solid, stable ride.
"It's an awesome, all-around Steamboat bike," Orange Peel's Essam Welch said. "You can ride it any day and ride it all day. It performs in a like manner to some of the bikes that have preceded it, with a lot of what the premium bikes had previous but now at a mid-grade price."
The trickle-down effect has impacted components, as well.
Chris Johns, who runs Wheels Bike Shop on Yampa Street in downtown Steamboat, said it's becoming easier and more affordable to add those developments to existing bikes. For instance, the hydraulic disc braking system that might have cost $400 a few years ago now can be had for $150.
Brand spanking new
Last year's technology might be right for the wallet, but there's plenty released this season that will tempt even the most frugal cyclists to dig a bit deeper.
Johns nearly was salivating as he pointed to the newest version of the Yeti SB66, another mountain bike but one with plenty of fresh innovation. How confident is the Front Range-based bike building company? "SB" stands for Super Bike.
The key is "Switch Technology."
"It's a longer suspension travel. It has 6.6 inches of shock travel, and it's still easy to pedal uphill," Johns said.
The SB66 starts at $3,300 but is available with lots of different options, including 29-inch wheels and a carbon fiber frame. With every bell and whistle, it runs $6,800.
"Yeti is coming up with a new technology every couple of years, and the industry follows suit," Johns said. "Now, they've come up with this, and they're setting the trend here, as well."
The Trek Domane, a road bike available at Steamboat Ski & Bike Kare, is another bike sporting a wealth of novel ideas. It's designed to absorb rough cobblestones to allow for a smoother ride on the one-day classics in Europe.
The important invention there is called IsoSpeed, a coupler that separates the seat post from the bike frame, allowing for greater comfort.
In Routt County, it could be a perfect answer to chip-and-seal. It starts at $4,600.
"The frame actually has a bearing, so the seat tube is independent of the top tube, so it can flex," Ski & Bike Kare's Bill Kipper said. "It can give you a lot more ride compliance for a smoother ride but not give up any latter stability for your power.
"What you have is a bike that's very stable and a very smooth ride."
At Orange Peel, the Ridley F.A.S.T. road bike certainly qualifies as different. In a world full of similar-looking frames, it stands out as unique thanks to its total commitment to maintaining aerodynamics. Nearly everything is built into the frame, including shifting and brake cables and even the brakes themselves.
The company claims that change to the fork reduces wind resistance by nearly 8 percent and that the whole package requires 4.6 percent less energy to reach 40 kilometers per hour.
"It's pretty fast, pretty rare," Webster said.
The bike is available for $5,500. It also features electronic shifting, a nice upgrade, Webster said. It's not sunk too far into the industry yet but is another that could in the near future.
Rough it up
Everything this year isn't carbon fiber and aerodynamics, however.
Some of it simply is all about fun.
Doug Steadman, at Ski Haus, eagerly pulled out the Specialized P.2, a hardtail perfect for conquering some of Steamboat's newest bike attractions. It's made for pump tracks, BMX courses and dirt jumps.
"That's what this is all about," he said. "It's a dirt jumper, but it's great for any pump track or skills course, and a lot of the guys ride it in BMX races. It's designed to take abuse. It's lightweight. It's singlespeed. It has a super beefy wheel set. It's meant to be jumped."
Available for $1,050, it's a route to some old-fashioned fun.
To reach Joel Reichenberger, call 970-871-4253 or email jreichenberger@SteamboatToday.com