On the Market: Steamboat attorney is speaker at convention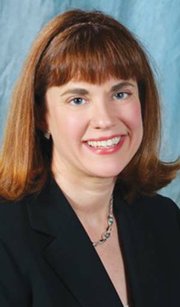 Steamboat Springs — Catherine Swan — an attorney at Holloway, Brabec & Karet, P.C., with offices on Lincoln Avenue in Steamboat Springs — is among the speakers at the American Bar Association's Construction Forum annual meeting, according to a news release. More than 400 of the nation's construction attorneys have gathered at the Bellagio in Las Vegas for the national conference. Swan joins a panel of construction industry leaders for a discussion about what it takes for an attorney to be successful inside the construction industry.
Before joining private practice, Swan served for more than 10 years as in-house counsel for TIC Holdings Inc., headquartered in Steamboat. Swan has more than 20 years of experience in engineering and construction. She was a strategic business partner for many aspects of corporate operations, and she holds a bachelor's degree in civil engineering from Valparaiso University and a law degree from DePaul University.
"It's an honor for me to be presenting at one of our nation's top gatherings of construction attorneys, especially given the achievements of the other speakers," Swan was quoted as saying.
Real estate firm acquires Chadwick Estates land
Meriwether Management Co. — a boutique real estate, private equity, investment and development firm — announced last week that it has purchased the balance of the improved land in Chadwick Estates in Steamboat, which is situated within the original Eagle Ridge development near the base of Steamboat Ski Area.
Terms of the sale were not disclosed and had not been filed at the Routt County Clerk and Recorder's Office.
At the same time, Meriwether reported it had acquired the note secured by the third phase of The Lorian project in Telluride's mountain village.
Meriwether has offices in Boulder and in Los Angeles.
Garrett Simon, an executive with Atira Group, developer of Edgemont in Steamboat Springs, also is among the four executives in Meriwether with Graham Culp, Noah Hahn and Brian Barrow.
The recent acquisitions add to Meriwether's existing development projects in the Southern California desert resort community of Rancho Mirage.
"We are excited that our formula and focus has enabled us to successfully complete four acquisitions within six months. We are further excited by our ability to attract institutional capital to our platform and niche," Meriwether co-founder and managing partner Hahn was quoted as saying in a news release. "By continuing to focus on our niche market of luxury resort projects, we anticipate that the success of our projects will build on each other as we move forward."