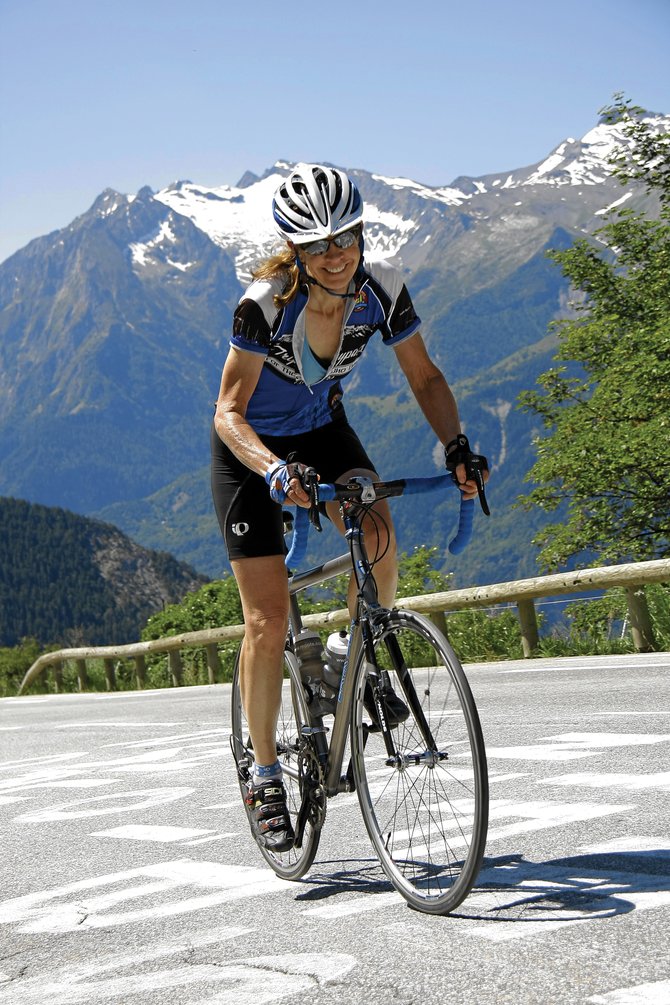 Spoke Talk: Secrets to success in the peloton
I'm glued to the TV watching the Spring Classic bicycle races right now. Each night unfolds exceptional action and real-life drama that rivals the best of reality TV. The accomplishment of these great athletes is amazing. Can you imagine what it takes to ride your bike at that level?

Right here in Steamboat Springs, there is the opportunity to ride with the best locally and experience similar action and drama to that of the bicycle races in Europe. OK, maybe not exactly like that, but sort of like that.
Every Tuesday night, friends gather for a fun road ride starting at Little Toots Park near Orange Peel Bicycle Service. I am one of the Tuesday night groupies — a wannabe road rider who loves the fast bikes and Lycra, riding in the peloton, pushing my limits and being part of the group.
There is usually an A Group and a B Group. The A Group comprises the best of Steamboat, with participants challenging one another while preparing for races. The B Group comprises strong riders with great passion and great potential. This group rides hard and practices the ins and outs of riding in a pace-line, challenging one another on the climbs and sprinting at designated sprint areas across town. It is all in fun and is a great way to keep the bike and the body well-tuned.
I am at the lowest end of this B Group. In reality, I would fit in with a C Group, but I would be on my own since no one else Tuesday nights will admit they actually are a C Group rider. Anyway, I try my best to keep up with the Bs and have fun doing so. There are many times I get dropped, which means I can't keep up with the group and end up riding back to town by myself. But lately, I have been doing better and on a few occasions have stayed with the group for the whole ride.

Here are the secrets to my success. This little formula has not been shared with Radio Shack or BMC, but I will share it with you in case you are looking to hang on to your own version of the peloton:
■ Get in shape. You can't keep up with the group if your legs cramp up or you can't breathe.
■ Learn how to ride someone's wheel. It takes practice, but it's fun. You have to be able to stay close to the guy in front of you to reap the benefits of less wind resistance.
■ Follow someone you trust. I have pegged a few riders I am comfortable following Tuesday nights. These are the riders who are steady and predictable. The riders who vary speed, miss pointing out a hole or rock in the road or wobble side-to-side are not your best choices to follow.
■ Look for the bigger guys. They block more wind, so you won't have to work as hard. You'll have more energy when the pace picks up later on.
■ Stay at your own pace on the hill climbs. Push as you can tolerate, but if you go too hard to keep up with stronger riders, you may blow up before you get to the top. Keep your pace, and hopefully, everyone is taking a little rest by the time you get to the top.
■ Try to draft other riders on the downhill. It is one way to keep up with the group and not lose position.
■ If the pace line begins to rotate and it's your turn to pull, try to keep your speed the same as the general speed of the line. I started out trying too hard and actually speeded up, making it difficult to recover. Pull only as far as you can and relinquish the lead to the next rider in line. There is no need to prove anything.
So those are my secrets to success in the peloton in Steamboat on Tuesday nights. If you're thinking you'd like to give it a try, meet at 5:30 p.m. Tuesday at Little Toots Park. You'll see me there, along with as many as 30 other friends looking for a great bike ride together. I'll be the one at the back.

Johanna Hall is a Steamboat Springs biking enthusiast and a member of Routt County Riders bicycle club.