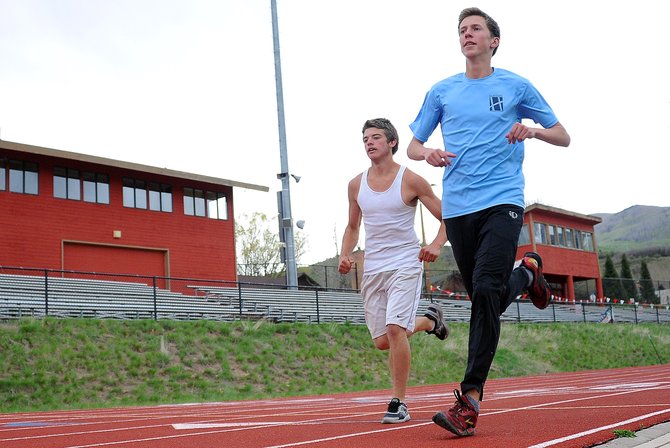 Steamboat distance runners eye state track meet
2012 Sailors track and field schedule
Steamboat Springs — Steamboat Springs High School was quiet Thursday afternoon, the parking lot nearly was empty and the athletic fields — typically bustling with spring sports practices — were abandoned.
Spring break can have that effect on a school campus, but in the midst of what for most athletes is a week off, the footsteps of Sailors senior Asher Rohde and junior Tanner Morrison practically echoed in the tranquility. The high school track season rapidly is coming to a close. The state championship meet looms only three weeks away, and if Steamboat is to be represented, the two agreed there's not a day to lose.
"It would mean we could actually go as a group to state instead of just sending one person each time," Rohde said, considering Steamboat's light presence at the season-ending meet in recent seasons.
The athletes with the top 18 times or distances from throughout the season are invited to the May 17 to 19 state track meet in Lakewood, and when Rohde and Morrison laced up their shoes Thursday to train, not a single Sailor was on course to be invited.
Rohde, so far, is closest. He briefly crept into Class 4A's top 18 in the 3,200-meter run late last month when he finished the race in 10 minutes, 26.12 seconds at a Broomfield meet. Despite running well and winning races since then, he's been unable to top that time and slowly has slid down the rankings to No. 32.
His next chance to reverse that comes Friday in the Liberty Bell Invitational at Heritage High School in Littleton. The 3,200 at that event should attract the very best runners from all the state's classes, making it even more difficult than the 3,200 will be at state.
With a personal best time nearly a minute slower than the top contenders, Rohde said he realizes he can't cross the finish line first Friday. He certainly can win a trip to state, however.
"I need to get really close to 10 minutes flat or below," Rohde said. "I'll be at the back of a pack going a lot faster than me, but hopefully, I can get dragged along."
With a time at or around 10:00, Rohde virtually would be a lock to make state. The cutoff currently is at 10:13, and the last eight runners all are slower than 10:00.
To make that time, Rohde has spent the past weeks trying to squeeze any seconds he can out of his race. That's meant trying to adopt a new style, kicking his heels up higher as he strides to help turn over his legs faster and increase his speed.
"I told him to watch a high school, then to go watch videos of elite races," Steamboat coach Greg Long said. "One of the things that happens, those elite guys have a really quick, high heel kick, so they're shortening the pendulum of their leg really fast. You don't see that with high school kids, and we'll see if he can actually do it in a race or if it's too much, too soon."
Morrison, meanwhile, could be an important key to helping a heap of Sailors reach state. He's spent most of his season focusing on shorter races, but he's been unable to approach the necessary times. He ran the 800 for the first time last week in a meet at Rifle, however, and he was fast enough there to spur the creation of a Steamboat 3,200 relay team.
Steamboat has not run that race this season, but the 18th school's time is 8:35.74.
Long said a determined Sailors effort, likely first taking the track May 5 at a Battle Mountain meet, realistically could get in under that and punch four tickets to the Front Range.
"Making state would mean a great end to my senior year," Rohde said. "Even though I'm planning on running in college and will have a lot more races, it would be great to end high school like that."
To reach Joel Reichenberger, call 970-871-4253 or email jreichenberger@SteamboatToday.com