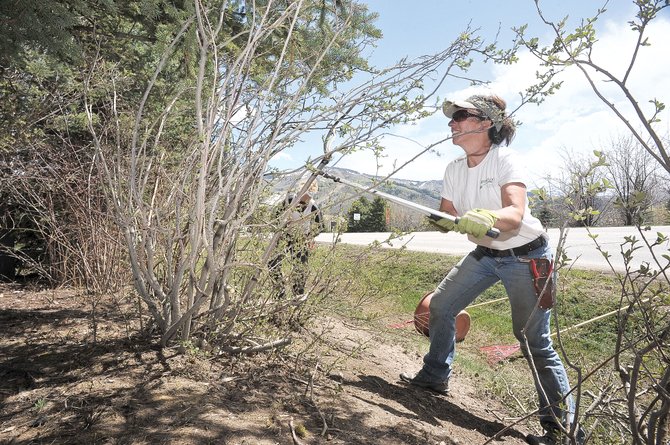 Tuesday's heat breaks record highs in Steamboat
Forecast calls for rain to return Thursday
Updated April 24, 2012 at 8:09 p.m.
Keep up with the conditions
- For local weather conditions and recent coverage of Steamboat Springs weather, visit SteamboatToday.com/weather
- View webcams of Steamboat Springs at SteamboatToday.com/webcams
- For weather information from the National Weather Service, including storm warnings and advisories, visit www.wrh.noaa.gov/
- The Colorado Department of Transportation provides road conditions, closures and traffic cameras at www.cotrip.org. For travel information by phone, call 511 from anywhere in Colorado or dial (303) 639-1111.
- For flight information, visit www.flightview.com/ TravelTools/. By phone, call Delta Airlines at (800) 241-4141; United Airlines at (800) 864-8331; and American Airlines at (800) 433-7300
Steamboat Springs — When a temperature gauge hit 78 degrees at 4:17 p.m. in Old Town Steamboat Springs on Monday, the town then had a new record high temperature for April 23.
The same gauge recorded another record-breaking temperature of 76 degrees Tuesday.
National Weather Service meteorologist Dennis Phillips said the previous record high temperatures for Monday and Tuesday were 76 and 75 degrees and were set in 1987 and 1989, respectively.
Phillips said a ridge of high pressure continued to drag warm air from the desert southwest into Northwest Colorado on Monday and Tuesday as temperatures in Steamboat neared 80 degrees.
"We're right under the apex of a hot ridge," meteorologist Dennis Phillips said Tuesday morning.
The weather pattern also brought record high temperatures to Craig, Yampa, Cortez, Crested Butte, Gunnison and Rangley, and it shattered some maximum temperature marks that dated back to 1949.

A thermometer four miles southwest of Craig on Monday recorded a high of 80 and beat a previous record of 76 set in 1989.
But the record high temperatures aren't expected to stick around much longer.
Phillips said the unseasonably warm weather will continue in Steamboat on Wednesday, but the forecast calls for cooler weather and rain Thursday as a system from the Pacific moves across Colorado.
The high on Thursday falls to 68 degrees, and Steamboat has a 60 percent chance of precipitation.
To reach Scott Franz, call 970-871-4210 or email scottfranz@SteamboatToday.com