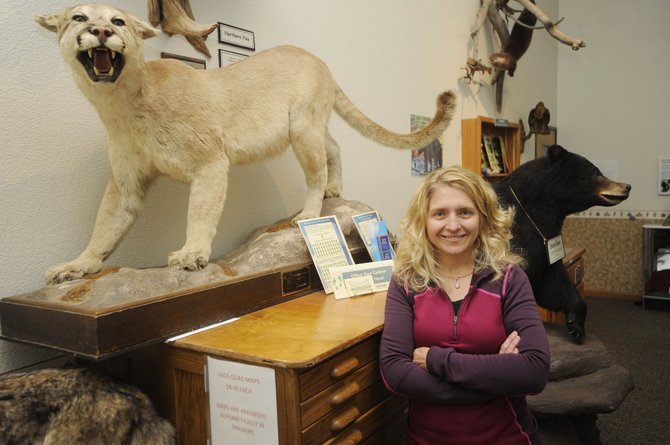 Yampa Ranger District wildlife biologist honored by peers
Steamboat Springs — From educating the public about bears to identifying toad and lynx habitats, U.S. Forest Service wildlife biologist Melissa Dressen has developed a rewarding career filled with variety and challenges.
"Her effort and expertise are just exceptional," said Clark McCreedy, a fellow wildlife biologist who works out of the Laramie, Wyo., office. "She is one of those individuals that appreciates her job. She really approaches her job with the attitude of service."
For Dressen's outstanding initiative, technical expertise, leadership and accomplishments on the Routt National Forest, McCreedy nominated her for the Wildlife Biologist of the Year award for the five-state Rocky Mountain Region.
Dressen, who works out of the Yampa Ranger District office, said receiving the award is an honor.
"The coolest thing about it is it comes from your peers," she said.
Dressen said a natural path led her to becoming a wildlife biologist. Throughout her childhood in Pennsylvania, Dressen's parents always were exposing her to wildlife and nature.
"It was part of a lifestyle, really," Dressen said.
She came to Colorado to attend college at Colorado State University, where she would earn her bachelor's degree in wildlife biology and a master's degree in wildlife ecology.
She moved to Steamboat after college in 1996 and started working for the Forest Service in 1998.
"I picked my place to live first and then built my foundation," Dressen said.
She has developed and managed a variety of projects that she hopes will benefit the health of the forest while creating recreational opportunities.
"I'm really trying to make a difference in terms of management," Dressen said. "I really try to dig in and understand before I make a statement."
Among her projects, she led an effort to ensure accurate and consistent mapping of lynx habitat.
She also volunteered to lead the Bear River Corridor Travel Management Project, which relates to the 29 miles of roads that were created near the Flat Tops Wilderness Area around the 1950s to fight a beetle epidemic. The project questioned whether the roads were impacting wildlife and forest health.
McCreedy said that Dressen excels in coordinating efforts with other government agencies and that she leads a group that works to ensure Endangered Species Act compliance.
"She is constantly busy with these other things," McCreedy said. "She has stepped forward and said, 'I am willing to take this project on that will benefit the entire forest.'"
He also lauded Dressen's work in creating an amphibian monitoring program for the forest.
"We just don't know that much about them," Dressen said.
In its first year, the project identified three new populations of the boreal toad, a species that is close to receiving protection under the Endangered Species Act.
Dressen also has focused her efforts on the impacts of the mountain pine beetle and understanding what the next forest will look like. The recovery so far is encouraging, she said. Lodgepole pine tree mortality rates were lower than anticipated, and new lodgepole, fir and aspen trees are growing.
"I think a lot of people are wondering what it's going to be like next," Dressen said. "It looks great. It's going to be just fine."
To reach Matt Stensland, call 970-871-4247 or email mstensland@SteamboatToday.com