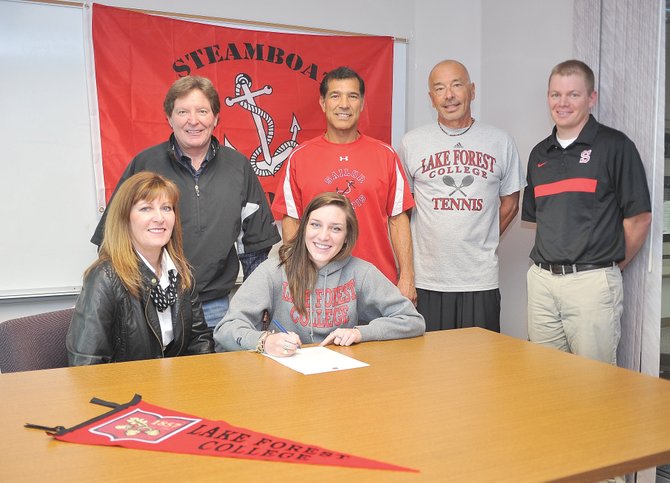 Steamboat's Christi Valicenti signs with Lake Forest College
2012 Sailors girls tennis schedule
Steamboat Springs — A couple of things became clear to Christi Valicenti when, during her sophomore year of high school, she earned the tennis team's No. 1 singles slot.
First, she knew tennis was a game she would play competitively long after her high school career was done. Second, if the chance arose to play in college, it would have to be an ideal fit.
Valicenti, now a senior at Steamboat Springs High School and still entrenched at No. 1 singles, signed her letter of intent Tuesday to play tennis at Lake Forest College north of Chicago.
"I knew after I did all my college visits in December," Valicenti said. "It ranks high academically, which was a plus for my parents and I. It also had the competitive level that I wanted."
Valicenti is a four-year letter winner for the Sailors and has made the state tournament twice in three years, finishing fifth at No. 3 doubles as a freshman.
She likely will make state again this year. She is 8-1 in dual matchups and finished fourth at the Western Slope Open in Grand Junction.
"At No. 1 singles, she has played some very talented players," Steamboat tennis coach John Aragon said. "Each week, she gets stronger. It's great to see that this time of year. With the level she is playing at and the college she chose, she will be able to step in right away and play."
The Foresters play in the Midwest Conference, recently finishing sixth in the conference championship. Lake College should be better this fall because the team lost only one player to graduation.
"I want to make the varsity, then be an All-American for their team," Valicenti said. "I want to show I have a strong base and grow from there."
Valicenti said her focus now is on wrapping up the high school season. Steamboat goes on spring break next week before returning for the regional tournament.
Valicenti will study communications and studio art at Lake College, with the intention of getting into journalism or graphic design.
"It's so nice," she said about signing the letter of intent. "It takes a load off of my shoulders. Having the decision made and being able to leave for school in August is a relief."
To reach Luke Graham, call 970-871-4229 or email lgraham@SteamboatToday.com