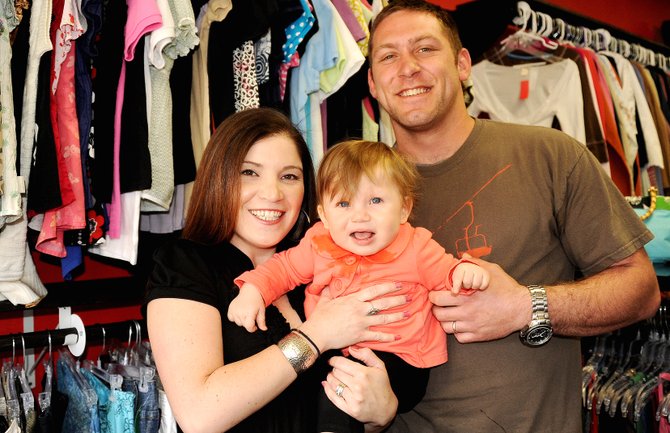 Finders Keepers consignment store opens in Steamboat
If you go
What: Finders Keepers consignment store
Where: 1120 S. Lincoln Ave., Suite C-2, just north of McDonald's on U.S. Highway 40
Call: 970-871-8700
Business hours:
Sunday: 11 a.m. to 4 p.m.
Monday: closed
Tuesday through Saturday: 11 a.m. to 6 p.m.
Steamboat Springs — There is a new consignment store on the map in Steamboat.
Megan and Paul Jonathans opened Finders Keepers in January and have been enjoying their new business venture.
Megan said she saw a need for another clothing boutique in the consignment market.
"It's a one-stop shop, consigning for the whole family," she said, noting the shop has men's and children's selections, as well as accessories and earrings from a local designer.
Megan and Paul moved to Steamboat five years ago from Tampa, Fla., and were married two years ago. On Wednesday, as their 10-month-old daughter, Seva, smiled and playfully grasped at a nearby vase of flowers, Megan and Paul helped a stream of customers, which they said has been pretty steady in their first months of business.
Megan had worked as a bartender at Sweetwater Grill and as a bartender and manager at Old Town Pub before opening the shop. Paul works as a carpenter when not helping out at the shop on Wednesdays, when men's apparel is 10 percent off.
"It's nice to be able to have our own deal," Paul said.
They said the store allows them to have a more stable lifestyle.
After working late nights as a bartender, "it's nice doing the day gig," Megan said.
Although this is the couple's first time running a business, Megan said that she has benefited from her family's experience running Dunkin' Donuts franchises in the Tampa area but that she learns new things every day.
Megan said she gets ideas for running the business from being a shopper.
Finders Keepers already has more than 100 consignors, which Megan attributes to the shop's unique policy and incentive program where consignors receive 10 percent off purchases when they use store credit.
She said that her clients who consign typically are consignment shoppers themselves and that the store also serves visitors who enjoy shopping consignment when they travel.
The store's location along U.S. Highway 40 near Anglers Drive is highlighted on a map of Steamboat consignment stores — started by Deja Vu Boutique owner Katie Gaylord this past fall — that they hand out to visitors and residents.
Megan said the store has benefited from positive word of mouth.
"What I like about this consignment store is that there is so much space. The dressing rooms are huge. It smells really good," said Sonia Franzel, of Steamboat Springs, while visiting the shop. "Everything looks brand new."
The store's first "fill-a-bag" sale, where invited shoppers will pay a set price for whatever they have in the bag, is being planned.
Megan said taking advantage of living in a small town allows them to do fun things like this.
"I like to think we're for the young and the young at heart," she said.
To reach Michael Schrantz, call 970-871-4254 or email mschrantz@SteamboatToday.com