'Almost, Maine' dress rehearsal
If you go
What: "Almost, Maine," a Steamboat Springs High School Drama Troupe production
When: 7 p.m. Thursday and Friday, and 2 and 7 p.m. Saturday
Where: Steamboat Springs High School auditorium, 45 E. Maple St.
Cost: $10 for adults, $8 for students and $5 for students with activity passes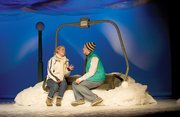 Steamboat Springs — Acting in a school play is nothing like playing football, but Sean Seams is giving the former a shot.
And in this weekend's Steamboat Springs High School Drama Troupe production of romantic comedy "Almost, Maine," Seams wasn't dealt an easy role.
In a scene called "They Fell," Seams plays Chad, a young man frustrated with a recent date and in the midst of the realization that he's fallen in love with his best friend, Randy.
"I think it's going to be one of the most memorable scenes," he said. "Hollywood glamorizes relationships, but we've all had a relationship, or we've all had that heartbreak feeling."
Although he's used to taking hits on the football field, Seams said the challenge of acting this scene came from the pressure of playing an intimate scene with only one other person onstage.
At first, he wasn't sure it was going to work.
"But after (Monday's) rehearsal … it's going to be one of the most exciting shows this high school has ever seen," he said.
Saccharine and overflowing with romantic puns, "Almost, Maine" is a series of short vignettes that touch on a small town's quirky but wistful characters.
The play premieres Thursday at the Steamboat Springs High School auditorium, and performances are at 7 p.m. Thursday, Friday and Saturday with a 2 p.m. Saturday matinee. Tickets are $10 for adults, $8 for students and $5 for students with activities passes.
Just like the triumphs and trials of love in "Almost, Maine," the process of putting on a school play can present unexpected challenges.
At 4 p.m. Tuesday, director and drama teacher Jamie O'Reilly learned that two of her actors would have to pull out of the play. In the midst of the chaos of Tuesday's rehearsal, the actors took on the challenge with smiles of support as they worked on learning new lines and new parts to fill in the missing pieces.
O'Reilly said she chose the play because she loved the endearing humor and themes of love and relationships. She had faith her students could tap into those emotions.
"We've had a lot of conversation about … maybe you haven't had these experiences, but what would it feel like if you did?" O'Reilly explained. "They've been so mature about this. They've felt before, they feel connections with people, and this is about relationships at crucial moments in their lives."
Student Mary Willingham, who plays Hope in a tearjerker scene called "Story of Hope," said the play leaves her feeling exactly like the name of her character.
"It reminds me there's magic in love," Willingham said. "I'm just a hopeless romantic."
As for those watching the play, Willingham thinks it will strike chords internally.
"It will engage them the most emotionally," she said. "It's going to make someone think of that person."
To reach Nicole Inglis, call 970-871-4204 or email ninglis@ExploreSteamboat.com