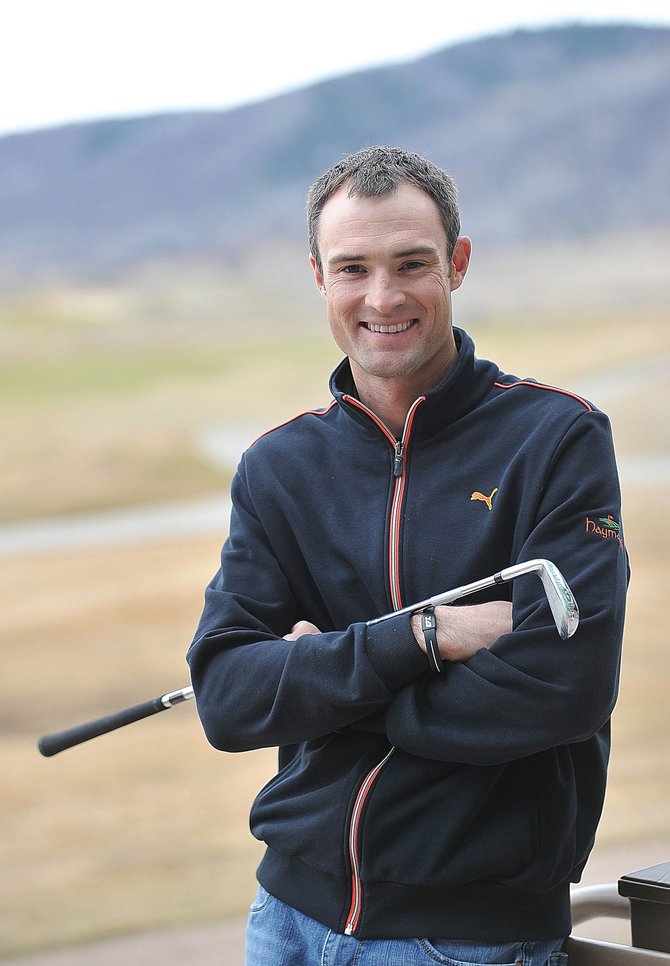 Steamboat golf pro leaving to chase dream
What's next for Haymaker
With the departure of Luke Brosterhous, Head Professional and Golf Operations Manager Tom Taylor said Haymaker Golf Course is looking at its options.
He said the Haymaker Golf Committee will sit down and decide within the next 10 days whether to hire a new director of instruction or delegate responsibilities.
The course has hired new PGA apprentice Shay Mitchell, who will join the teaching staff. Mitchell comes from a decorated high school golf career in Maine.
Steamboat Springs — Listen to Luke Brosterhous talk about his on-again, off-again time in Steamboat for the past decade — especially his time at Haymaker Golf Course — and it would be easy to envision him staying in the Yampa Valley for the foreseeable future.
But brush past the surface, get him talking about the future and have him watch the Masters, and there is something different.
Brosterhous has the personality and mind to do big things in the golf industry. He just seems like a guy that gets it.
And after a couple of years as Haymaker's director of instruction, a position in which he grew the facility and junior program, Brosterhous is chasing his dream.
He recently was named director of instruction at the TPC Snoqualmie Ridge course in Snoqualmie, Wash., just east of Seattle.
"It would be very easy to stay the next 20 years here," he said. "We wouldn't have had any problems with it. But I always would have wondered."
Brosterhous came to Steamboat in 2001 to coach at the Steamboat Springs Winter Sports Club. From 2003 to 2005, he was an assistant pro at Catamount Ranch & Club. In 2005, he played mini tours for a year before spending some time in Asia teaching. He returned to Steamboat in 2008 to start working at Haymaker. In 2010, he became the director of instruction.
"I think for Luke ... to do what he wants in his career, it's the next step and one he can't pass up," said Haymaker Director of Golf Tom Taylor, who has run the course with Brosterhous the past two years. "This will set him on the track. Knowing the teacher that he is, he's going to do really well."
The course in Washington is one of 33 TPC courses across the country. The Jack Nicklaus-designed course features top-notch practice facilities and hosts the Boeing Classic, a stop on the Champions Tour.
"In terms of what I want to do, this is the next level," Brosterhous said. "There are a variety of reasons, but this will help me get to opportunities beyond this. Careerwise, this was a no-brainer."
Brosterhous is working with Taylor to figure out what is next for Haymaker. Brosterhous will head to Washington in early May.
Although he said he was excited for the next step, he leaves with mixed emotions. This winter, he had planned to try to make Haymaker a destination course.
He also was in the process of expanding instruction and the junior golf program.
"The hard part of the decision for me was I had a vision of what I wanted to accomplish, and it wasn't quite complete," he said. "But I don't know when an opportunity like this was going to come up."
Brosterhous had been named the Colorado PGA West Chapter Teacher of the Year the past two seasons.
His focus — not only on the swing, but also the mental side of the game — made him a teacher with a unique skill set.
"I think he has a different look at it than most teachers," Taylor said. "He has a degree in sports psychology that gives it a unique twist. All of us can see what people do incorrectly with the golf swing, but getting a student to do it correct and consistently is tough."
Although it was tough for Brosterhous to leave, he said this will take him to the next step of his career.
"I'm not shy about the fact I'm fascinated by the best players in the world," he said. "At some point, I'd love to work with and coach the best players in the world. I'd love to be at that level. One of the good things that follow uncertainty are a lot of possibilities. There are a lot of possibilities with this."
To reach Luke Graham, call 970-871-4229 or email lgraham@SteamboatToday.com