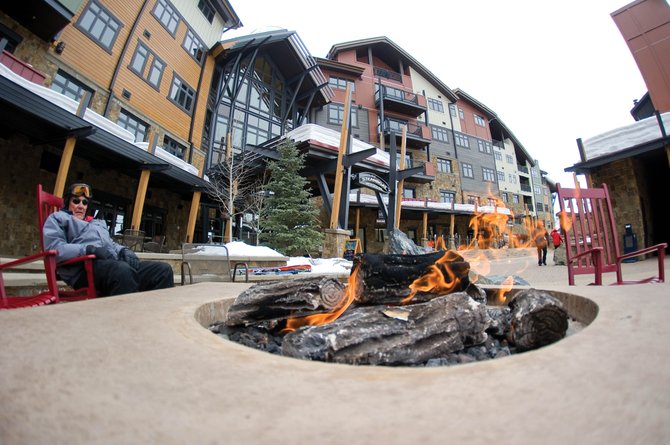 One Steamboat Place hits spring sales groove
Steamboat Springs — With five closings valued at a combined $7.81 million in the six business days between March 28 and Monday, sales at One Steamboat Place seem to have found a sweet spot in the current luxury resort market.
Keith Marlow, director of sales for Carbondale-based Timbers Resorts, the original developer of One Steamboat Place, said the company now has closed on 26 whole-ownership units.
"We've been very happy with things over the last year or so," Marlow said.
He said strong nightly rentals each of the past two ski seasons have allowed the staff at One Steamboat Place to expose prospective buyers to a high level of service.
"Hands down, it's our staff and the vacation experience they provide," Marlow said. "The experience at One Steamboat Place sets us apart. All of our guests' vacation needs are taken care of."
Marlow said staff members are forming personal friendships with some of the guests. He tells the story of a staffer who was invited to travel to a large university campus last fall as the guest of a One Steamboat Place client to attend a big-time college football game from the 50-yard line.
During the course of 15 months, many of the sales at One Steamboat Place have been attributable to the sale of one-eighth shares in the residence club. The value of those sales seems to have settled in at $330,000 this year.
However, of the past five sales, three were whole-ownership deals, all of them involving four-bedroom, 4.5-bath condominiums with two fireplaces, and all of them priced between $2 million and $3 million.
Part of the success Timbers Resorts has experienced selling whole-ownership units in the past nine months can be attributed to the purchases made by a business called Exclusive Resorts.
One of the three whole-ownership sales in the last week was to Exclusive Resorts, a destination vacation club that offers luxury homes all across the world. The purchases are made through a business entity called Co St Powder Valley LLC or Co St Powder Valley II LLC.
Early summer 2011 was relatively slow at One Steamboat Place until mid-August, when Exclusive Resorts purchased two whole units, each for $2.325 million. The end of August brought two more whole-unit sales of $1.8 million and $1.85 million, respectively, to different parties. Exclusive Resorts was back in the picture in mid-November with two more purchases of $2.325 million each.
Marlow said last month that Timbers Resorts also has seen strong sales activity at the residence club it oversees at the Sebastian Hotel in Vail. In addition, the company recently became the sales and marketing entity for the Dancing Bear in downtown Aspen.
To reach Tom Ross, call 970-871-4205 or email tross@SteamboatToday.com