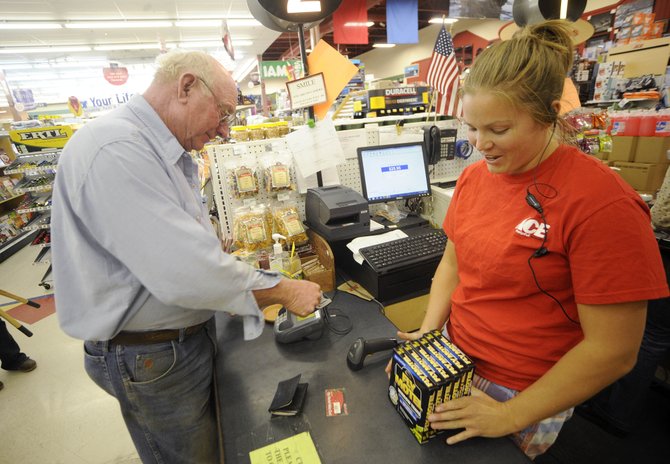 National banks announce new fees; local institutions not changing
Friday, September 30, 2011
Steamboat Springs — While several national banks will start charging a monthly fee to customers who use debit cards, at least one Steamboat Springs institution is bucking the trend.
Yampa Valley Bank President PJ Wharton wrote in an email that the locally owned bank had no intention at this time of initiating a fee on debit card usage.
Bank of America announced Thursday that it would start charging a $5 monthly debit card fee early next year. The fee would allow the bank to recoup revenue it expects to lose when a new regulation takes effect today. The regulation reduces the amount banks can charge merchants when customers use debit cards to make purchases.
Other national banks, including Chase and Wells Fargo, have said they will start charging customers a monthly debit card fee, as well.
"I believe this is a clear delineation between community banks and the big nationals," Wharton said. "We are not motivated to increase fees simply to meet Wall Street's income expectations. We are motivated to be the best bank for our community and our shareholders. We do not simply manage our success via today's stock price."
Adonna Allen, president of Alpine Bank in Steamboat Springs, said the bank has no plans to institute a monthly debit card fee.
Even Steamboat's national bank branches have no immediate plans to charge customers who use debit cards.
"We have no current plans to add a monthly fee for debit card usage," Bank of the West spokesman Jim Cole wrote in an email.
Cristie Drumm, a Wells Fargo spokeswoman, said the bank will start charging $3 per month to customers who use their debit cards and have accounts in Oregon, New Mexico, Nevada, Georgia and Washington.
Customers will be charged even if they use the credit option while making a purchase, Drumm said. She said the fee wouldn't apply to ATM transactions. And she added that joint accounts only would be charged once per month.
Drumm said she didn't know how or when Wells Fargo would evaluate whether to start the monthly debit card fee at Wells Fargo locations in other states, such as Colorado.
"It's something that we do on a regular basis, review pricing, to make sure we're charging an appropriate price for the product with the value we're providing," she said. "With industry trends and the recent regulations, it's something we'll look at."
Opinions about banks charging debit card fees were mixed from customers leaving Ace at the Curve on Friday afternoon. While some said a fee wouldn't bother them, others said they likely would change their spending habits or bank if charged a monthly fee.
"I'd probably carry around more cash for sure," Steamboat resident Mike Kaiser said. "I might threaten to start shopping around for other banking opportunities."
— To reach Jack Weinstein, call 970-871-4203 or email jweinstein@SteamboatToday.com