1 of 2 charges dropped against Marco Pauvert
Friday, September 30, 2011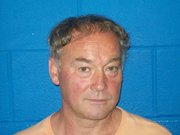 Steamboat Springs — Editor's note: The headline of this story has been updated to reflect that only one of the two charges against Marco Pauvert has been dropped.
One of the two misdemeanor indecent exposure charges against former Steamboat Springs restaurateur Marco Pauvert have been dropped because the victim will not testify.
The first of the two trials was scheduled to start Friday but was canceled.
The "complaining witness moved out of state and cannot return to Colorado to testify at trial," Routt County Chief Deputy District Attorney Rusty Prindle wrote in a court document. "People's case relies almost entirely on that witness's testimony."
Pauvert was arrested Aug. 25, 2010, after a woman accused him of exposing himself to her in his restaurant, The Epicurean, in downtown Steamboat. The woman who reported that incident is the one who has chosen not to testify.
Another woman went to police after Pauvert was arrested and reported a similar incident took place in July 2010. In both cases, each woman alleged that Pauvert emerged from a restroom naked while she was at the restaurant.
Pauvert since has closed the restaurant.
The trial for the July 2010 allegation still is scheduled for 8 a.m. Oct. 13.