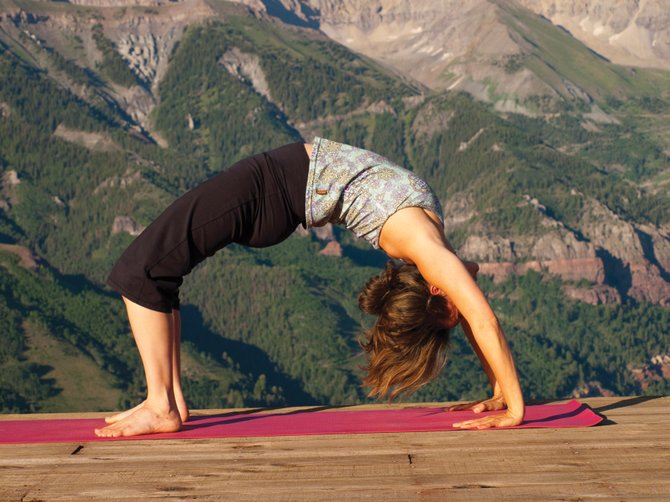 Yoga retreat in Steamboat offers local escape
SoulSpark Journeys provides 2nd Steamboat yoga event
Thursday, September 29, 2011
Past Event
Saturday, October 8, 2011, 7:30 a.m. to 4:30 p.m.
Perry Mansfield Performing Arts Center, 40755 County Road 36, Steamboat Springs
Not available / $100 - $195
Past Event
Sunday, October 9, 2011, 7:30 a.m. to 4:30 p.m.
Perry Mansfield Performing Arts Center, 40755 County Road 36, Steamboat Springs
Not available / $100 - $195
Steamboat Springs — On a rainy, cold weekend last fall, about 30 people sat meditating inside the glass walls of the Perry-Mansfield Performing Arts School and Camp Steinberg Pavilion.
Local yoga teacher Karen Goodman recalled clearly that peaceful, pure moment when the participants in the weekend-long SoulSpark Journeys yoga retreat gazed out the window at two mule deer standing in the fog.
"You feel like you're in the middle of nowhere, even though you're five minutes from town," she said Wednesday.
Goodman will be one of the yoga teachers and local enthusiasts participating in the second annual yoga retreat, which is organized by local travel guide and yoga instructor Alexandra Pallut with the goal of diving deeper into yoga practice and expanding horizons with workshops in writing, dance and meditation.
The retreat is from 7:30 a.m. to 4:30 p.m. Oct. 8 and 9. The cost is $195 for both days, or $100 per day, which includes breakfast and lunch each day, four yoga classes, four workshops and two meditation classes.
Last year's retreat was Pallut's first offering under the name SoulSpark Journeys, a Steamboat-based yoga travel company that also took a group of about 15 Steamboat residents to Costa Rica in the spring.
Now, Pallut has planned another trip to Costa Rica and one to Italy in 2012.
"It was fabulous," Pallut said about last year's Steamboat event. "I cried at the end. It was a really positive experience, and everyone really enjoyed it. There was really a sense of community that was built by the end of the weekend."
New this year will be a performance and workshop Saturday with Julia Horn, a professional yoga dancer from New York City.
June Florence, a Steamboat resident, also will give a presentation Sunday on healthy eating and raw foods and will prepare raw dishes.
"It's all about getting away from the busy everyday world, taking time for you and slowing down and focusing on you," Pallut said. "When you do it in an environment where you're supported, you can go that step further."
Part of the proceeds from the event will go to the National Breast Cancer Foundation, and there will be pink apparel on sale to benefit the cause, as well.
Steamboat resident Anne Small said she went on the Costa Rica trip and has been practicing yoga for a little more than a year.
She said she plans to attend next weekend's retreat as well as bring her sister from the Front Range to the event.
"There's a lot of different topics to explore," she said. "There's things I happen to like that you don't get to do a lot here in Steamboat. There's always something new to learn, and the energy of that type of environment is really peaceful."
To reach Nicole Inglis, call 970-871-4204 or email ninglis@SteamboatToday.com