Photo Gallery
Hayden volleyball vs. Rangely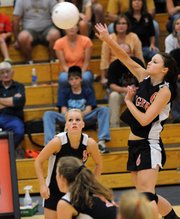 The Hayden volleyball team wasn't bad Saturday, but it was tragically inconsistent, and Rangely turned that into a three-game sweep, winning, 26-24, 25-18, 28-26.
2011 Tigers volleyball schedule
Sept. 6: Hayden 3, Rifle 0
Sept. 9: Hayden 0, Meeker 3
Sept. 13: Moffat County 3, Hayden 1
Sept. 16: Soroco 4, Hayden 0
Sept. 20: Hayden 3, Little Snake River 2
Sept. 23: Hayden 3, West Grand 0
Sept. 24: Rangely 3, Hayden 0
Sept. 25 at Vail Mountain, TBA
Oct. 14: Little Snake River, Wyo. 3, Hayden 1
Oct. 15: Hayden 3, Plateau Valley 1
Oct. 21: Vail Mountain 3, Hayden 0
Oct. 22: Hayden 3, Vail Christian 2
Steamboat Springs — The Hayden High School volleyball team hoped to be able to define itself Saturday as the team played host to Rangely, a potential win capping a strong five-match stretch.
Instead, when the dust settled, the Tigers could only hope this wasn't a sign of things to come. Hayden wasn't bad Saturday, but it was tragically inconsistent, and the Panthers turned that into a three-game sweep, winning 26-24, 25-18, 28-26.
"That was tough. It was really tough," Hayden coach Holli Palmer said.
The tragic part wasn't simply the loss, which snapped a modest three-game winning streak for the Tigers and dropped them to 4-5 on the season.
Rather, the tragic part was that Hayden led in each of the three games and at various points seemed to have two of them put away.
The Panthers managed to respond and eat up big Tiger leads. When the important points came at the end of each match, it was Rangely that proved to have the necessary moxie.
"We made a lot of unforced errors," Palmer said. "The girls didn't swing as hard at the end of games. When we slow down and stop playing our own game, that's when we lose."
Hayden had plenty of powerful moments.
Senior Aubree Haskins showed up big early, slamming home a kill for the afternoon's first point, then picking up the next with a big block at the net.
She dropped in an ace late in the first game to give her team a 21-16 lead.
Freshman Jordan Temple, meanwhile, had a kill and an ace to give the Tigers a 2-0 lead in the second game. A kill by senior Erin Koehler made it 7-2 soon after. Koehler also had a big block in the third game to give Hayden a 20-15 lead while senior Brette Frentress served her team to a 22-16 advantage in that same game.
"Our defense was pretty good tonight, and we passed the ball well," senior Jacie Temple said.
It all came apart, however.
Rangely rallied from an 18-10 and 21-16 deficit in the first game, tying the game at 22 before winning it after a pair of Hayden errors.
Hayden led 10-5 in the second game, but the scored tied at 15, and Rangely rolled the rest of the way.
The final game may have been the most tragic for the Tigers. They led by six, needing only three more points to force another game. But the Panthers roared back yet again, scoring six consecutive points to knot things up, then eke out the win.
"We had high points, but we didn't have the mental toughness," Jacie Temple said. "In those tough situations where we have to make this serve or have to make this set, we get so nervous we crumble. We need to have the confidence in ourselves to win those points."
To reach Joel Reichenberger, call 970-871-4253 or email jreichenberger@SteamboatToday.com