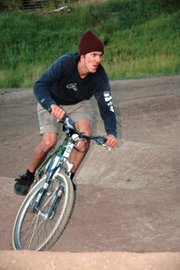 Steamboat Springs — The sun had just gone down Thursday, and about a dozen Oak Creek residents milled around the town's newest attraction.
Four-year-old Leif Idzahl waddled around the new dirt mounds on his balance bike while his father, Bryon, whizzed around the tight corners of what locals claim is one of the better bike pump tracks in the area, barely pedaling at all.
"It's a ton of people," said mayor Nikki Knoebel about the draw of the new track. "It's just another thing for kids to get out and do, and it's kids and parents alike that get to do something together."
Neighbors say Oak Creek's new pump track has drawn dozens out each night to the intersection of Arthur Avenue and Williams Street, where the town's old settling ponds had sat unused for almost 10 years enclosed in barbed wire and warning signs.
"It gives the kids a reason to get outdoors," said Matt Johnston, a neighbor of the park who helped build the track during Labor Day weekend with about 15 volunteers and track designer Lee McCormack, of Boulder. He said the crowds come out each night at about 6:30 p.m. and nearly all day on weekends. "It gives them more of a variety of things to do."
Grants from LiveWell Northwest Colorado and Great Outdoors Colorado helped fund the park as well as a few new trails across town.
With the help of Rocky Mountain Youth Corps and the local residents, the area is less of an eyesore and more of a community gathering spot.
Mark Wertheimer, associate director of the Youth Corps, had a special connection to the project this summer as a resident of the neighborhood.
"It happened exactly as we expected with the amount of people that volunteered and the interest right off the bat," he said Friday afternoon.
Neighbors of the park not only helped build the track during Labor Day weekend, but also helped secure saplings to line the park and cut the grass.
Although the area around the track is still dirt, the town is working on an irrigation system, finishing the lawn and building a picnic structure.
Knoebel said the town and LiveWell plan to host barbecues and instructional workshops in the spring.
Tony and Jackie Brown, who also live across from the park, said they've ridden the track a few times on their cruiser bikes but said it's much easier with BMX bikes.
"Everyone in the area definitely uses it, and they all participate," Tony Brown said.
On Friday evening, while many children and their families were at Soroco homecoming activities, 9-year-old Dimitri Bice cruised by the park and pulled in for the first time.
Out of breath, he yelled from the track that it was fun and "really hard."
"I think I'll come here again," he said as he pedaled off to go find his friends.
— To reach Nicole Inglis, call 970-871-4204 or email ninglis@SteamboatToday.com