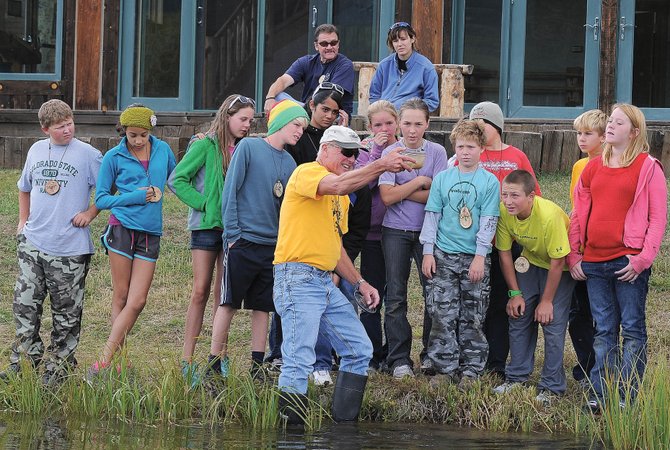 Yampa Valley Science School brings science into focus for 6th-graders
Thursday, September 22, 2011
Yampa Valley Science School
Photo Gallery
Yampa Valley Science School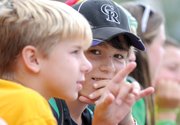 About 260 sixth-graders attended the 11th annual Yampa Valley Science School program in Steamboat Springs, making this year's science camp the highest attended since its inception in 2000.
Steamboat Springs — As he twisted the focus rings of a binocular dissecting microscope in the dining hall of the Perry-Mansfield Performing Arts School and Camp on Wednesday, Lowell Whiteman Primary School sixth-grader Curtis Maltby called his friends over to show them what he had discovered.
"It's a whole different experience to see something like this up close," he said after the mayfly larvae plucked from the cold water of a nearby pond came into focus in his eyepiece. "It's really fun."
Maltby and 69 other sixth-grade students from South Routt, Hayden, North Routt Community Charter School and Christian Heritage School have been camping out at Perry-Mansfield this week for the 11th annual Yampa Valley Science School, a camp led by Rocky Mountain Youth Corps with the help of the school districts and Partners in Routt County. By Friday, students at the camp will have spent five days learning about wildlife, the inhabitants of riparian zones and weather patterns, among other things. They also will have helped clean the Yampa River.
About 190 sixth-graders at Steamboat Springs Middle School also participated in camp activities last week, making this year's science camp the highest attended since its inception in 2000.
On Wednesday morning, Maltby's group learned about the diets of bears and deer, and after lunch they got a close-up look at organisms that live in riparian zones as they stuck pipettes into buckets of water to collect everything from freshwater shrimp to snails.
"They're still at that age where they're not afraid to show their excitement when they're learning," former University of Wyoming biochemistry professor Jerry Johnson said after he taught a group of nine students about the microscopic organisms they had their eyes on. "You get a lot of 'wows' and 'dudes' and 'come look at what I found' when they are looking through the microscopes."
Rocky Mountain Youth Corps Associate Director Mark Wertheimer, better known to campers as "Cottonwood," said the science school continues to benefit the students who are starting a new chapter of their academic careers.
"They get a chance to use all of their senses to experience everything from some examples of larger animals to microscopic animals," he said.
"They also get to enjoy the sights and sounds of the greater Yampa Valley, which Perry-Mansfield has some great examples of in the form of creeks and meadows, aspen groves, large vistas and the aroma of the campfire in the evening."
Wertheimer said he hopes that when the campers leave, they're more excited about science and school.
Back at the dining hall, Hayden Middle School student Brennan Guire said he didn't accurately predict what science camp would be like as he tried to figure out what the black dots were on a glass microscope slide in front of him.
"At first I thought it was going to be boring, and I didn't want to go," he said. "But it's been pretty cool so far."
— To reach Scott Franz, call 970-871-4210 or email scottfranz@SteamboatToday.com