Lawsuit dropped against former Oak Creek mayor
Rodeman claims town should have paid for ambulance ride after Taser incident
Thursday, September 22, 2011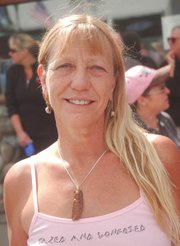 Steamboat Springs — Former Oak Creek Mayor Kathy "Cargo" Rodeman will not have to pay for the ambulance that took her to the hospital after she was shocked with a Taser by an Oak Creek police officer in July 2008.
On Tuesday in Routt County Courthouse, a collection agency representing the city of Steamboat Springs asked the judge to dismiss the lawsuit seeking $710 for ambulance services plus $119.44 in interest.
City Finance Director Deb Hinsvark said the city was advised that because of controversy surrounding the Taser incident, the cost of litigation likely would surpass the amount they thought Rodeman owed.
"I imagine we will write this bill off," Hinsvark said.
Rodeman on Wednesday said she was happy the lawsuit was dropped because she never felt it was her responsibility to pay the bill. She thought the town of Oak Creek should pay the bill because it is their policy to have a person taken to the hospital after they are shocked with a stun gun.
"I am acutely aware of what the approved policy stated as I was mayor of Oak Creek when it was voted on and passed," Rodeman wrote in a response to the lawsuit.
The legality of Rodeman getting hit with the stun gun in the first place was called into question and led to Rodeman filing a lawsuit that was settled in April.
Former Oak Creek police Officer Erik Foster used the stun gun and arrested Rodeman on July 19, 2008. Foster has said that he tried to stop Rodeman in her car because she failed to use her turn signal and that she fled into her home. Foster has said he pursued Rodeman into her home and used a Taser to subdue and arrest her because she wasn't cooperating.
Rodeman was taken to Routt County Jail, where she complained of a headache and severe jaw pain.
"I thought I was having a stroke or something," she said Wednesday.
A Steamboat Springs Fire Rescue ambulance was called to take her to Yampa Valley Medical Center.
All criminal charges against Rodeman eventually were dropped, and Foster along with then-Oak Creek Police Chief Russ Caterinicchio later resigned.
The lawsuit seeking payment for the ambulance services was filed July 18. Rodeman filed a response to the lawsuit Aug. 30.
"My contention always has been that, by their own policy, this bill should rightfully be paid by the town of Oak Creek," she wrote.
According to the minutes from the Oct. 12, 2006, Town Board meeting where the updated policy was passed unanimously, the policy was changed to say "police commissioners will be notified as soon as practicable when a Taser is deployed and that the affected party will be transported to the hospital in Steamboat Springs."
There is no mention of who pays for the ride.
Oak Creek Town Clerk Karen Halterman said Wednesday that the police department never updated the policy to reflect the changes.