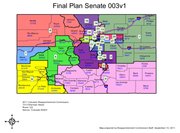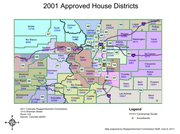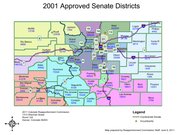 Steamboat Springs — Colorado House of Representatives District 57, which includes Routt County, will have a new representative in 2012, but its Republican majority won't change.
The Colorado Reapportionment Commission approved new House and Senate districts Monday. The commission was appointed to redraw the boundaries in the redistricting process, which will take effect after the 2012 election. Redistricting is required after each decennial census to adjust House and Senate districts to reflect population changes.
The approved House District 57 no longer includes Grand County, home to two-term Rep. Randy Baumgardner, a Hot Sulphur Springs Republican. Grand County will join House District 63, which includes Eagle and Summit counties. Many of the districts are being renumbered. The proposed House District 63 mostly is made up of the existing H.D. 56, which is represented by Dillon Democrat Millie Hamner.
H.D. 57 would add part of Mesa County and continue to include Routt, Moffat, Jackson, Rio Blanco and Garfield counties.
The new H.D. 57 still wou­­­ld have a large Republican
majority, with nearly 47 percent of voters registered with the GOP in 2010. That's only slightly higher than the 46 percent of 2010 registered Republican voters in the existing boundaries of H.D. 57.
By comparison, 21 percent of registered voters in the new H.D. 57 are Democrats and nearly 31 percent are unaffiliated. That breakdown also is similar to the voter makeup of the current H.D. 57.
Routt County Republican Central Committee Chairman Chuck McConnell said that while the local GOP is pleased to retain its Republican majority in H.D. 57, the party isn't pleased with the approved district boundary.
"I, and I think I can say we, a lot of Republicans in Routt County are disappointed with the way the final map turned out with respect to Grand County being left out of House District 57," he said. "We believe Rep. Baumgardner was doing a great job for the West Slope, our county and H.D. 57. If he's not able to run in 2012, that will be disappointing."
Baumgardner didn't return calls requesting comment.
Routt County Democratic Party Chairwoman Catherine Carson also isn't pleased with the redistricting of H.D. 57, but for a different reason.
"Basically, if you look at the last two elections, the gentleman who has won the district has lost significantly in Routt County," she said about Baumgardner. "I think our voice is not always heard. I think the Reapportionment Commission worked to make the districts as even as possible, but with demographics, it's tough."
In the 2010 election, Routt County voters favored Democratic challenger Steve Ivancie, who received 51 percent of the vote to Baumgardner's 45 percent. Libertarian candidate Mike Kien received 4 percent of the vote.
And in 2008, Democrat Todd Hagenbuch received 63 percent of the vote in Routt County compared with Baumgardner's 37 percent.
Carson said Senate District 8, which includes Routt County, is more competitive than H.D. 57 among Democrats, Republicans and independents.
According to the approved Senate District 8 boundary, 38 percent of registered voters in 2010 were Republican while nearly 26 percent were Democrat, and 35 percent weren't affiliated with a party. Those numbers only are slightly different than the existing district boundary.
Senate District 8 lost Eagle County but added Summit County and retained Moffat, Jackson, Rio Blanco and Garfield counties. Hayden Republican Jean White represents the district.
McConnell couldn't say who might run for H.D. 57 when the seat is up for election in 2012. Neither could Carson, but both said each party would have strong candidates.
The Colorado Supreme Court still needs to sign off on the boundary maps. If it does by Dec. 14, they would be submitted to the Colorado Secretary of State's Office.
Registered voter numbers