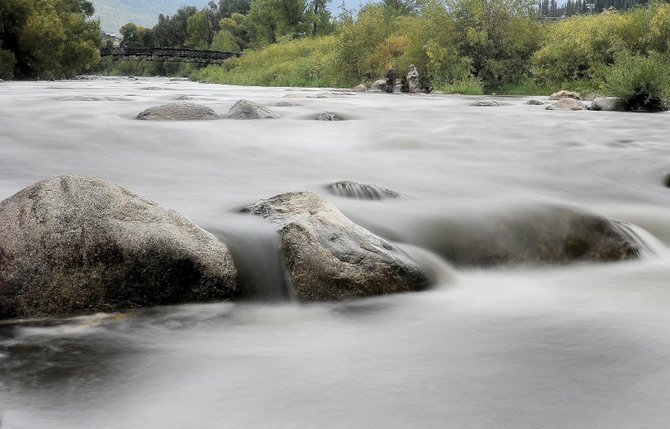 Steamboat group lands grant to fund river improvements
Friday, September 16, 2011
Past Event
Friday, September 16, 2011, 6 p.m. to 10 p.m.
Olympian Hall, Howelsen Hill, Steamboat Springs
Not available / $20
Steamboat Springs — The Friends of the Yampa achieved a milestone this week with the news that it had received a $50,000 grant for river improvements in the downtown stretch of the Yampa River in Steamboat Springs.
Friends of the Yampa President Ken Brenner confirmed that the work to improve the structure of the river from the Ambulance Barn to its confluence with Soda Creek marks the first big stream-improvement project for his group.
"This is a big transition for Friends of the Yampa," Brenner said. "We'll sign a design and engineering contract this week and within a month actual construction could begin."
Friends of the Yampa has existed for years but only attained formal nonprofit status within the past year. Brenner said Friends of the Yampa is within about $5,000 of realizing the $50,000 match necessary to land the grant.
Brenner said the result of the work, which fits the city's master plan for structures and erosion control in the urban stretch of the Yampa, will not only benefit the river's health but also enhance paddling sports and fishing.
Brenner said the $50,000 would come through the Colorado Healthy Rivers Fund grants program created by the Colorado General Assembly through the Colorado Water for the 21st Century Act. Colorado's income tax check-off program is the source of the funds. It allows taxpayers to opt in when they complete annual tax forms.
The Friends of the Yampa's new grant comes from a pool of money dedicated to each of the nine river basin roundtables across Colorado that were established by state government. However, Brenner has high hopes for 2012, when Friends of the Yampa will pursue a larger grant funded by a pool devoted to statewide projects.
That fund granted $300,000 this year for a river project on the Gunnison and another $200,000 for improvements along the Arkansas, he added.
"We'll go back next year and apply for funds from the statewide reserve account," Brenner said.
Friends of the Yampa also will seek help from the city of Steamboat Springs in pursuing a Great Outdoors Colorado grant in line with a new emphasis there on river projects, Brenner added.
GOCo announced early this month that it was requesting concept papers from entities across the state for large-scale, river-based recreation and conservation projects and would allocate $14 million to $18 million for the initiative.
"GOCo's intent with this rivers initiative is to provide more places and facilities for Colorado's citizens and visitors to enjoy the state's vast river resources while maintaining the important river ecosystems and natural values they provide," a news release stated.
If both of those grant requests came to pass, Friends of the Yampa could have as much as $1 million to work with next year as more needs on the city's Yampa River master plan are addressed, Brenner said.
To reach Tom Ross, call 970-871-4205 or email tross@SteamboatToday.com