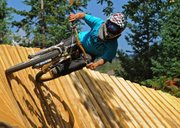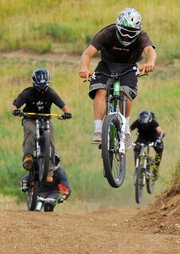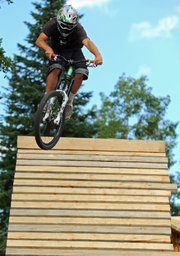 Steamboat Ski Area downhill trails
Trail name, Difficulty, Status
Creekside, Black, Open
E-Z Rider, Green, Open for preview
Wrangler Gulch, Green, Open for preview
Buckin' Bronc, Black, jump, Open for preview
Rustlers Ridge, Blue, Summer 2012
Bullrider, Black, Summer 2012
Rawhide, Black, Summer 2012
Spur, Blue, Future
TBD, Black, jump, Future
TBD, Green, Future
If you go
A fall bike preview pass costs $25 and is available at the Gondola Square ticket office at Steamboat Ski Area. It is required for any bike, in addition to a regular summer gondola ticket for the rider. Downhill mountain bikes — more sturdy with much larger shocks than regular bikes — are available for rent at the ski area base.
Steamboat Springs — It's one of the most difficult aspects, and thus when it works out, there's a bit of sweet relief, John Cowan said.
The Gravity Logic trail engineer tosses around locations of the courses he's designed as if they're little but faint memories.
"Madagascar, Morocco, the Philippines, Japan," he rattled off Friday morning, gazing up at his newest canvas, Mount Werner and Steamboat Ski Area.
He spends most of each summer on the road doing what he loves, but it's always a trade-off. He's missed precious moments at home as his two children have grown up.
Compliments from riders don't give back those moments, but they can help, and nailing one of the most difficult parts of any job, well, that always helps, too.
Gravity Logic seeks to design trails that will please the hard-core downhill riders who could make the backbone of the ski area's summer business. It also wants to allow the less-experienced weekend warriors, those who make up the business' bread and butter, to ride the same trail without fear.
"That's such a balance," Cowan said. "It's very difficult. You want a jump to be steep enough so guys love it, but also to be something someone can roll over. It's very difficult."
The ski area's new downhill trails can work for everyone.
That's perhaps the best thing that can be said about the still-in-progress trails at Mount Werner. Miles and miles of the trails expected to be ready next summer have yet to be built, but the crews focused first on the base of the ski area, and starting this weekend, a couple of those trails are open to riders to offer a sneak peek of exactly what is to come.
What's there so far is more than enough to send jaws to the dirt and bikes into the sky.
"It gives me goosebumps," local mountain biking aficionado Cory Prager said, having just ridden the available terrain.
Easy does it
The goal of appealing to a variety of riders is evident in everything that can be seen on the short but sweet portion of the trails currently available to riders.
Much of the trails at this point bear the downhill trail signature of hard-packed dirt void of any rock or debris.
"You can just let it go through here," Cowan hollered out, giving a tour of the Gravity Logic design Friday morning. "You won't come around a corner and find a bunch of debris or anything."
Even the available black trail, Buckin' Bronc, isn't as steep as sections of popular blue trails like Zig Zag. That's a feature of the mountain and part of the design, Cowan said.
It's almost hard to go slow on the new trails, which drop quickly in elevation but never do so steeply. There are areas where they lose elevation fast, but those are carefully chosen and blended with massive dirt and wooden features that provide the "wow" factor for the available terrain.
Flying features
The trip to the sneak peek trails starts at the base area ticket window, where a $25 pass grants access to the trails for the remaining four weekends on the ski area's summer calendar.
From the top of the gondola, riders can descend Zig Zag to the bottom of the Thunderhead Express chairlift, where the available new trails begin. The beginner-level Wrangler Gulch breaks off just to the left where Zig Zag crosses the road and trends right.
That trail then splits off into the advanced Buckin' Bronc, which shows just what has had downhill experts chomping at the bit for so long.
Large dirt berms make riding down even steep sections natural and, if not easy, certainly easier. The section of trail also features several huge wooden features. Prager and Cowan swung high up the side of a wooden-plank berm, their bikes defying gravity until they swooped back down to the dirt.
Riders don't have to swing high, however. Instead, they can opt to stay low on the dirt.
Another large wooden project waits a few turns farther down. There, an elevated path lifts riders about 10 feet up from the dirt and launches them off one spectacular jump and quickly to another dirt launching point.
A wooden ramp awaits at the end of the first big jump, serving as a chicken exit for the experts or a thrilling dive for intermediate riders.
That all leads to a 100-yard long series of jumps. Cowan flew up and over the dirt jumps, each successively steeper, while other riders stuck to the ground, rolling that section of the trail without having to stop, or barely even pedal.
Two ways to ride the same trail — that's what Gravity Logic had in mind.
Just the start
The available trails are only a taste, and Cowan's eyes light up when he surveys a Steamboat map pointing out what is to come. A five-mile intermediate run from the top of the gondola to the base is under construction and expected to be ready by mid-summer 2012. A challenging top-to-bottom black trail also is under construction and promises to contain plenty of eye-popping features. An advanced jump trail also is expected soon, all that work representing the foundation of the Steamboat Bike Park.
Much of the first phase should come online next summer, but what's already there will give riders something to buzz about all winter long.
"It's small now, but this is just the beginning," Prager said. "It's extremely fun. I had the biggest smile on my face."
To reach Joel Reichenberger, call 970-871-4253 or email jreichenberger@SteamboatToday.com