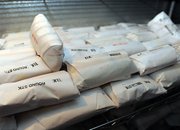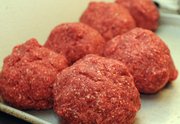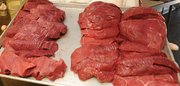 If you go
What: Elk River Custom Wild Game Processing
Where: 2464 Downhill Drive No. 11, Steamboat Springs, CO 80487
Cost: $235 for elk plus $60 for skinning; $150 for deer plus $10 for skinning.
For more information
Call Dan Bubenheim at 970-846-7642 or Joe Muhlbauer at 970-819-8177.
Recipe
The guys at Elk River Custom Wild Game Processing usually end up with about 125 pounds of meat from an average elk. Some of that goes into jerky, and they provide recipes to customers for the best way to turn that meat into something excellent. Here's one of their favorite jerky recipes:
Bloody Mary Jerky
1 1/2 cup tomato juice
1/4 cup vodka
1/4 teaspoon cayenne
2 teaspoons salt
1 teaspoon black pepper
1 teaspoon celery seed
1 Tablespoon liquid smoke
1 tablespoon Worcestershire sauce
Combine the ingredients. Marinate 20 ounces (1 1/4 pounds) of meat in the mixture for 12 hours. Dehydrate for 3 1/2 hours.
Steamboat Springs — The first clue was a shot, the distinctive report of a rifle snapping through the October morning chill of a North Routt forest.
Then came the call, a cellphone buzz less than a half-hour after the sun had peaked above the horizon. The dew still was present, and the 2011 Colorado elk and deer hunting rifle season was only minutes old.
Hunter Mihaich, 14, was out of breath, panting desperately but entirely unwilling to pause, collect himself and deliver his news clearly.
"Dad!" he shouted into the phone. "I got one!"
An hour later, his father, Dave Mihaich, was standing by his side, a cow elk dead at their feet. A night in a high-country elk camp, a brutally early morning and a silent crawl to a carefully chosen spot had paid off, but as the first-time elk hunter was about to discover, the hard part had yet to begin.
"Once you kill an elk, that's when the work really begins," Dave Mihaich said.
Opening up shop
Seven elk. That's how many the men of Elk River Custom Wild Game Processing can get through in a day. Maybe they can do a little more at the height of the action, when hunters are pulling their pickups up to the Steamboat Springs processing shop on Downhill Drive like Postal Service trucks the week before Christmas, unloading their kills for the guys who love to do elk hunting's dirty work.
Dan Bubenheim and Joe Muhlbauer opened the business three years ago. Avid hunters who've been prowling the woods their whole lives, they found the job came naturally to them.
"We've been doing it for ourselves and friends for a long time," said Muhlbauer, who grew up in western Pennsylvania hunting white-tail deer and turkeys.
Now the pair — who are brothers-in-law and longtime hunting partners — strive to connect with customers and offer them excellent meats, taking time with each hunter to sort out exactly what kind of cuts he or she wants and how many of each.
"We pull each individual animal out and keep everyone's separate from start to finish, including the burger and the sausage. They get their own meat back," Bubenheim said.
Divvying it up
Hunter Mihaich didn't know where to start. He'd been around dead elk in the field before but usually would arrive on the scene after the cleaning process had begun. His dad was quick to offer a hand, starting the process that eventually led them to the door of Elk River Processing.
There, Hunter got an up-front look at what goes into turning a good early morning rifle shot into a mouth-watering sizzle on a back-deck barbecue grill.
First, Bubenheim or Muhlbauer string up the elk and quarter it. At least one of them is always there, along with a collection of the four other employees they hire for the six months of the season they're busy taking in animals.
On Friday morning, a freshly slain and cleaned mule deer hung near the shop's entrance, and dozens of quarters of elk, one step further in the process, were strung up in a massive walk-in freezer.
They can turn an animal around in a day, but ideally, they'll hang there for nearly a week, the cold protecting the meat while enzymes begin the process of breaking down and tenderizing it.
"We suggest hanging an elk for six days at 42 degrees," Bubenheim said. "That lets it age, and the enzymes break it down. The blood comes out of it, and then it forms a hard shell. When it has that hard shell, all the meat on the inside is breaking down and aging and getting tender.
"Then we cut it."
In another part of the shop, the appropriately aged elk quarters are hung again as Bubenheim and Muhlbauer slice off large slabs and work the various parts of the animal into the desired cuts.
An average elk can produce about 125 pounds of meat. That often is cut into about 20 pounds of round steak, nearly 20 pounds of sirloin steaks, 15 pounds of backstraps (including a few tenderloins), 50 pounds of burger and 20 pounds of sausage and jerky.
The sausage and burger meat in particular can be spiced up using a number of recipes, customizing the sausage into everything from spicy Italian to a breakfast variety.
The burger meat can be made into something for your average all-American cheeseburger or a special bacon-burger blend that mixes 70 percent elk meat with 30 percent bacon, a concoction that left the Mihaiches drooling.
Hungry for more
They didn't rush the processing of Hunter's first elk. The meat hung as long as recommended, and the cutting didn't begin until he could be there, after school on a day earlier this month.
Hunter was there as it was cut and packaged.
After the meat is wrapped — first in clear plastic to help prevent freezer burn, and then in more traditional white butcher paper — it's put into another freezer. After that's finished, it's finally slipped into a box and is ready to be picked up.
"They let him do his meat with them, so that was really cool," Dave Mihaich said. "He brought home a big box of meat. It was pretty cool."
The process isn't finished yet. Hunter's elk meat still is in the freezer at home, but the family already is thinking of adding to the supply. Dave Mihaich has a tag for another season this year.
"Taking my son out there and him getting his first elk, that was pretty awesome," he said. "Teenagers get excited about a lot of things, but when it's something like that, you can't even put it in words.
"He was so excited, but that's when the work really begins. The stalking, the shooting, that's the easy part."
— To reach Joel Reichenberger, call 970-871-4253 or email jreichenberger@SteamboatToday.com