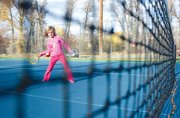 Keep up with the conditions
- For local weather conditions and recent coverage of Steamboat Springs weather, visit SteamboatToday.com/weather
- View webcams of Steamboat Springs at SteamboatToday.com/webcams
- For weather information from the National Weather Service, including storm warnings and advisories, visit www.wrh.noaa.gov/
- The Colorado Department of Transportation provides road conditions, closures and traffic cameras at www.cotrip.org. For travel information by phone, call 511 from anywhere in Colorado or dial (303) 639-1111.
- For flight information, visit www.flightview.com/ TravelTools/. By phone, call Delta Airlines at (800) 241-4141; United Airlines at (800) 864-8331; and American Airlines at (800) 433-7300
Steamboat Springs — A winter storm watch is in effect through noon Wednesday for the highest elevations of Routt County. The impact of an approaching winter storm should be much less severe in Steamboat Springs city limits.
The winter storm watch issued by the National Weather Service on Monday includes the Elkhead, Park, Gore and Flat Tops mountain ranges as well as the towns of Columbine and Toponas. The snow is expected to begin falling in those areas at about 3 p.m. Tuesday and taper off by midday Wednesday. A total of 6 to 12 inches is forecast, with the heaviest snow falling Tuesday night.
The snow level will begin at 9,000 feet, according to the National Weather Service. That level will drop as a cold front moves through the region overnight Tuesday night and into Wednesday.
Tuesday's's forecast for Steamboat Springs includes a high temperature of 53 degrees and a 50 percent chance of rain. A rain/snow mix is likely Tuesday night, when the low temperature will dip to 32 degrees. It won't get much warmer than that Wednesday, when the forecast high is just 38 degrees. The National Weather Service is predicting a 50 percent chance of snow Wednesday.
Clear skies dominate the forecast for the end of the week, but the daytime highs will remain in the 40s through Friday. The thermometer should just break the 50-degree mark on Saturday and Sunday.