Steamboat Springs homebuyers see tight lending
Of 66 pending sales, 26 percent are distressed properties
Saturday, October 22, 2011
Steamboat Homefinder
Visit SteamboatHomefinder.com for more real estate news.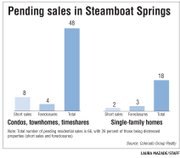 Steamboat Springs — Adonna Allen, president of Alpine Bank in Steamboat Springs, had a telling anecdote to share this week about the difficulty of financing homebuyers under tightened lending standards.
"We had a mortgage client who has $6 million in cash and wanted to buy a $2 million home with a $417,000 mortgage," Allen said during a breakfast meeting of business leaders hosted by the Steamboat Springs Chamber Resort Association.
"I know that if I had $6 million, I could live off the interest (it generates), and that's what he does. But because he does not have a W-2 job, he did not qualify for a Fannie/Freddie loan," Allen said.
Her client, who ultimately paid cash for the house he wanted, was constrained by the portions of the much larger Dodd-Frank Bill that are devoted to curtailing mortgage fraud and predatory lending practices.
Although she said she thinks the portions of the Dodd-Frank Bill devoted to mortgage lending were well intentioned, they've put unreasonable constraints on lending.
"Dodd Frank says, 'Here's the box that you must fit into,'" Allen said. "There's no room for being reasonable."
Allen said the third quarter of 2011 was the quarter in which large institutional banks caught up with foreclosure filings in the wake of national news about problems with foreclosure paperwork in the fourth quarter of 2010. Those banks hold the paper on many mortgages, and once they caught up to their paperwork issues, their renewed vigor contributed to the "slew" of foreclosure filings in the third quarter, she said.
"That affects us locally as bankers," Allen said. "Many of those homeowners being foreclosed on also had a mortgage home equity line of credit. And there's a good chance if they're not making payments on their first (note encumbering their home), they're not paying on the line of credit."
Martin Dragnev, a broker associate with Colorado Group Realty, told the Chamber gathering that of 66 pending residential sales within the city of Steamboat Springs as of this week, just about 26 percent are distressed properties.
"They are under contract and in escrow," Dragnev said.
The breakdown includes contracts on 48 condos, townhomes and timeshares. Eight of those properties are going through a short sale, and four are owned by banks. Among the 18 pending sales of single-family homes, two are short sales and three are foreclosures.
"County Treasurer Jeanne Whiddon said that the percentage of owners under foreclosure notice who are becoming current on their mortgages has grown tremendously this year," Dragnev said. "I've been lucky enough to be involved in nine transactions this year, mostly representing buyers. Their main reasons for buying here include the strong sense of community, the good schools and organizations like the Steamboat Springs Winter Sports Club. Obviously, historically low prices helped. Those are values we should be proud of, and they make me more optimistic about where our market is headed."
Colorado Group Realty's research shows that among 744 listings of residential property for sale in the city limits through the multiple listing service, about 7 percent are being offered as short sales or are bank-owned. The number of condos, townhomes and timeshares in that circumstance is greater than the number of single-family homes.
There are 597 listings for condos, townhomes and timeshares, of which 25 are short sales and 19 are bank-owned. Dragnev told his audience that the inclusion of timeshares in that sampling somewhat distorts the proportion of distressed homes.
Of the 147 single-family homes listed for sale in the city, only eight are distressed properties. Five are short sales, and three are bank-owned.
To reach Tom Ross, call 970-871-4205 or email tross@SteamboatToday.com