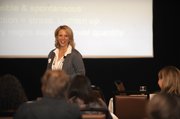 Past Event
Sunday, October 9, 2011, 9 a.m.
Downtown Steamboat Springs, Steamboat Springs
Not available / $20
Steamboat Springs — The career-minded and eager young people participating in the inaugural Rocky Mountain Young Professionals Summit likely left the daylong event with a stack of business cards.
Networking was a key part of the conference, but it wasn't everything. The 50 or so participants from Colorado and surrounding states also gained a broad view of their early careers and how to best navigate the exciting paths that lay ahead.
"In every stage of being a professional, there's always a new challenge," said Dan Kobler, co-founder of the Mile High Young Professionals group based in Denver. "It's about learning that all of these challenges have their own solutions."
Kobler, a website design entrepreneur, said it's important that young professionals from a variety of industries get together to network and share ideas and common experiences.
"In Colorado, we've got a lot of people that came here because of a certain way of life," he said. "We want to be in Colorado, and that sets us apart."
The event featured keynote speakers and breakout sessions covering a variety of topics from healthy living and social media to self-branding and the art of conversation.
At lunchtime, keynote speaker Michelle Olson talked about the balance between personal life and career, something that many young professionals struggle with early in their careers.
Olson owns a public relations company based in Phoenix that represents Marabou Ranch, among other clients.
In addition to running her own company, she is the mother of twin teenage boys and an avid cyclist.
She had her audience laughing along with her as she described her constant efforts to find harmony in her hectic life.
"There's never really a balance," she said. "We're tugged in a lot of different directions, and any one thing can be more important than others on any given day."
Olson keeps a family portrait on her desk to remind her of what's important in her life. The photo helps remind her to not be a slave to her email inbox and to make time for enjoyment in her life.
"You need enjoyment because it centers you; it helps you be more productive," Olson said.
The participants ranged in age and career. There were art gallery owners, real estate brokers, public relations specialists and architects, hailing from areas such as the Front Range and Park City, Utah.
Ryan Marsden, a board member with the local Young Professionals Network, said the inaugural event was a success.
"I'm impressed at the turnout and people's excitement," he said.
Nicole Relyea, social media director for Mile High Young Professionals that will host the event next year in Denver, said her involvement in the group has been a great resource personally and professionally.
"It can be easy sometimes to kind of coast along in your career," Relyea said. "This pushes you to keep working for more."
— To reach Nicole Inglis, call 970-871-4204 or email ninglis@SteamboatToday.com