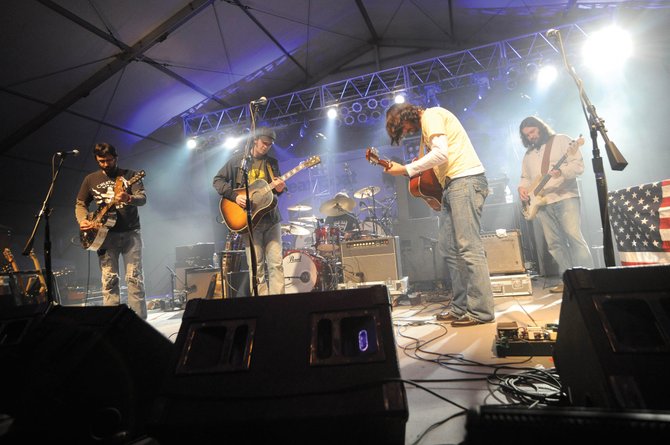 Several free concerts at Steamboat base area are announced
Wednesday, November 30, 2011
Online
Keep up with Steamboat entertainment news by following @Nikki_Inglis on Twitter.
Bud Light Rocks the Boat schedule
March 10: Band of Heathens
March 17: See-I
March 24: TBA
March 31: TBA
April 7: Keller Williams
April 15: TBA
All shows begin at 3 p.m.
See-I
Steamboat Springs — The new permanent stage at the base of Steamboat Ski Area saw its first live act Saturday, and the rest of its inaugural season already is starting to shape up.
The stage will host this year's Bud Light Rocks the Boat free concert series, which kicks off March 10 with up-and-coming Americana rockers Band of Heathens.
Two other acts have been announced for the annual winter concerts: See-I, a side project of Thievery Corporation, on March 17 and former Steamboat Springs resident turned jam favorite Keller Williams on April 7.
Three more shows have yet to be announced.
Jon Waldman, who books the shows for Steamboat Ski and Resort Corp, said the three shows offer two familiar names that are new to the free concert stage and one fresh project.
Band of Heathens, a five-years-young roots rock project from Austin, Texas, has been on Ski Jam and MusicFest bills before (and will be playing MusicFest again in January) and played once at Ghost Ranch Saloon.
See-I, featuring several members of world electronica band Thievery Corporation, is a nine-piece reggae jam band based in Washington, D.C.
"I think people will love it," Waldman said. "It's got sort of a mixture of reggae, funk and soul all in one. Thievery Corporation is a really progressive band itself, and a lot of what they're doing comes across in See-I."
And Keller Williams, who once padded barefoot across local Steamboat club stages in the 1990s, will be playing what Waldman thinks is his first solo headlining gig at a free Steamboat concert. He's appeared in the past at the Free Summer Concert Series as part of the Rhythm Devils, solo at Ski Jam and last winter with Keller and the Keels.
Ski Corp. celebrated the opening of the stage and the base area enhancements with a free show from Nederland's Elephant Revival on Saturday, and Waldman said the reactions were overwhelmingly positive.
"People that hadn't been up there, hadn't seen it … once they saw the final product, there was a 'wow' factor," he said.
Waldman said the fans aren't the only ones marveling at the no-longer-makeshift base area structure; it's also an added bonus for the acts that will be performing there.
"Anytime you're producing, especially a winter series, when an act sees an actual structure, their confidence level walking into the situation is enhanced," Waldman said.
"It's a positive impression for the bands and the fans, and it adds a positive statement to the redevelopment and enhancement of the base area."
Music lovers and base-area revelers won't have to wait until March, either. The annual MusicFest, which transplants the music culture of Austin into Steamboat for a week, offers its annual free afternoon outdoor shows Jan. 6 to 9.
On Jan. 6, Midnight River Choir kicks off the weekend, with Kyle Park on Jan. 7 and the Turnpike Troubadours on Jan 8.
The afternoon of Jan. 9 will host the annual Cajun Cookout with Corb Lund and the Hurtin' Albertans along with Jack Ingram.
This year's Cowboy Downhill also features New Orleans rock 'n' roll favorites Cowboy Mouth on Jan. 17.
Band of Heathens
Keller Williams loop jam
— To reach Nicole Inglis, call 970-871-4204 or email ninglis@SteamboatToday.com