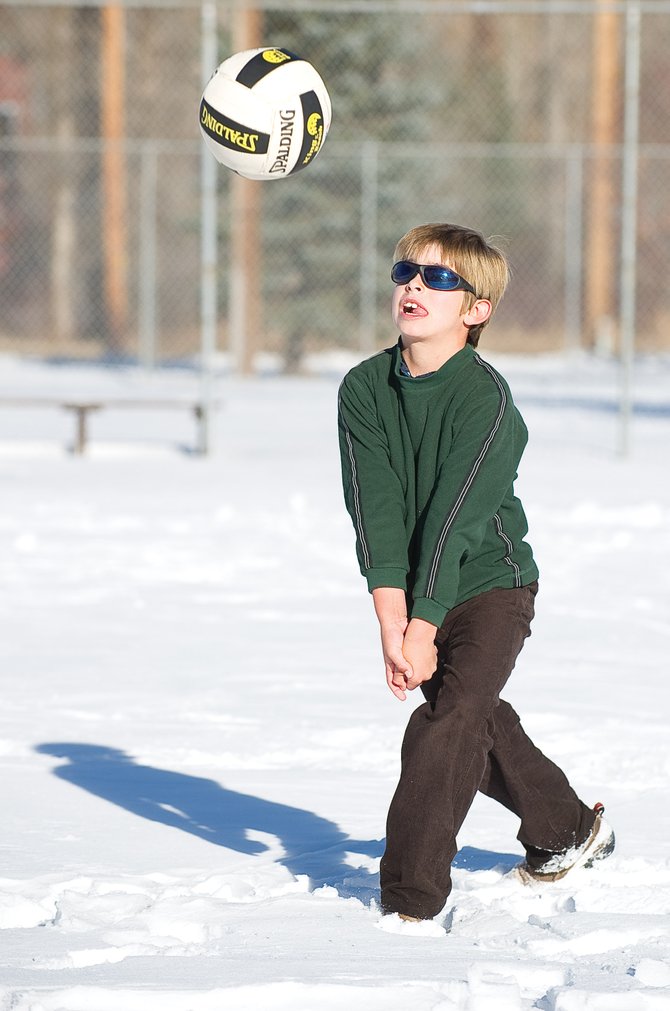 Wind, snow are on the way to Steamboat
Tuesday, November 29, 2011
Steamboat Springs — November 2010 might be fresh in the minds of Steamboat Springs skiers and riders who are looking at the valley floor and wondering where the snow is. Last November, with 90 inches of snowfall, turned out to be the whitest month of the winter in a ski season that easily cleared the 400-inch barrier.
"If last year was your first year here, then you might be a bit jaded since it was the snowiest November on record," Steamboat Ski Area spokesman Mike Lane said.
And if you thought you could recall skiing powder this time last year, you're not mistaken.
Lane's records show that of the 90 inches that fell at mid-mountain in November 2010, 11 inches fell on Nov. 29 and 9 more fell on Nov. 30.
"Snow has been good this year, and yes, we are still very early in the season," Lane said Tuesday. "As we all know, things change fast in Ski Town USA when it comes to snow. We're ahead for November snow when compared to the big snow seasons of '08-09 and '07-08."
The National Weather Service on Tuesday was preparing to issue a snow and blowing snow advisory for portions of Northwest Colorado, including Steamboat, on Wednesday night. Between 4 and 8 inches could fall, but the storm track isn't ideal for Mount Werner, meteorologist Mike Chamberlain said.
The winter of 2007-08 was the monster winter that established a snow record with 489 inches. But only 17 inches fell in October of 2007, followed by a mere 23 inches in November. The next winter, 2008-09, saw 4.75 inches in October and 35.25 in November.
To date, Mount Werner has seen 46.5 inches of snowfall this season, putting it on a faster pace than what was recorded in those back-to-back 400-inch winters. The average November snowfall at mid-mountain is 33.5 inches, according to ski area records.
Lane said it's the increasingly efficient snowmaking system that has allowed the ski area to open terrain from the top of Four Points to the bottom of the mountain.
"Snowmaking and the improvements that have come in the past three or so years have allowed very nice early season conditions," Lane said.
Still, it's natural for devoted snow riders to look at the bare grass on the Routt County Courthouse lawn and wonder what's up.
Dedicated Steamboat outdoorsman Soren Jespersen posted a comment to Facebook urging skiers to take his advice and wash their vehicles to guarantee a snowstorm.
"Everyone, please go wash your car today," Jespersen wrote. "We need some snow, and now. This is getting serious."
Meteorologists at the National Weather Service's Grand Junction forecast office said Jespersen might get his wish Wednesday night, albeit with a heavy dose of wind.
The official forecast calls for a 40 percent chance of snow Wednesday night in Steamboat, but the Weather Service also expects a strong cold front accompanied by wind gusts of 25 to 30 mph that could create whiteout conditions. The forecast is for 2 to 4 inches of snow in the valleys of Northwest Colorado and 4 to 8 inches in the mountains.
Chamberlain said Steamboat skiers and riders shouldn't get their hopes too high.
"There's going to be lift and the moisture is in place, so you'll get snow, but the low is going to sink all the way to Las Vegas and continue south from there, so for Steamboat it will come from the northeast and be a wrap-around type flow that doesn't really favor you," he said. "I think the Elkheads (west of Steamboat) will do better than the Park Range."
Chamberlain observed that winter weather patterns in Northwest Colorado typically change every four to six weeks, and he ventured the region might be in for a change.
"I've got a feeling that in a week, or two, or three we might see the pattern change, but I just don't know," Chamberlain said.
— To reach Tom Ross, call 970-871-4205 or email tross@SteamboatToday.com