Steamboat high school students expand horizons in Honor Band
Thursday, November 24, 2011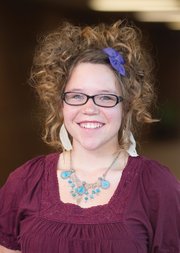 Steamboat Springs — Steamboat Springs High School student Lev Tsypin doesn't feel isolated living in this small mountain town. As a member of his high school band, he said he has the same opportunities as any big city student to travel, learn and play music.
"It's all possible from here," he said Friday, leaning up against a window in a hallway with his clarinet in his hand.
Those opportunities have taken him across Colorado and soon will land him in Carnegie Hall in New York City.
Tsypin was one of 13 Steamboat Springs High School students who traveled to Aspen on Nov. 4 as part of the Northwest Honor Band, which brings together a group of more than 100 music students hand picked by judges to rehearse and perform several selections of challenging music.
High school band director Jim Knapp said he nominates his top music students for the program.
"They all are very committed and dedicated, and it showed in how they achieved: They all ranked very high in their sections," he said.
The Honor Band program started off with two nearly 10-hour days of rehearsal with a guest conductor, but the students were eager to put in the hard work.
"He has a different perspective on music," Honor Band student Kelly Ernst said. "It's like looking at a painting through three different eyes."
The repertoire included "Semper Fidelis March" and "In Flight," but the weekend was about much more than the music.
The students said the event was an incredible opportunity to be among other musicians with the same passion for playing their instruments.
"It's inspiring to see all these different music students come together and put something together like that," Honor Band student Samantha Trahan said.
In addition to Honor Band, Tsypin has another opportunity awaiting him in the new year.
As a participant in All-State Band, the clarinetist was chosen to audition this past summer for the American High School Honors Performance Series.
He was chosen from hundreds of clarinetists in the United States and Canada to be one of just a few in the Honors Orchestra that will perform Feb. 12 in Carnegie Hall.
"I'm still incredibly excited," he said. "It's very amazing. It's an incredible opportunity," Tsypin said.
The repertoire he's learning includes Beethoven, Stravinsky and Copeland — a task that Knapp knows he's up for.
"He has an incredible work ethic, and combined with his talent, it just comes together and created a really great young man," Knapp said. "I couldn't think of a person more deserving of this honor."
Tsypin was born in Russia and immigrated to the U.S. in 2000. He moved to Steamboat Springs in 2002, and has been playing clarinet since fifth grade.
He wants to go into medicine someday, but he probably will minor in music, he said.
"I want to keep it a part of my life as much as I can," he said.
To reach Nicole Inglis, call 970-871-4204 or email ninglis@SteamboatToday.com
Honor Band