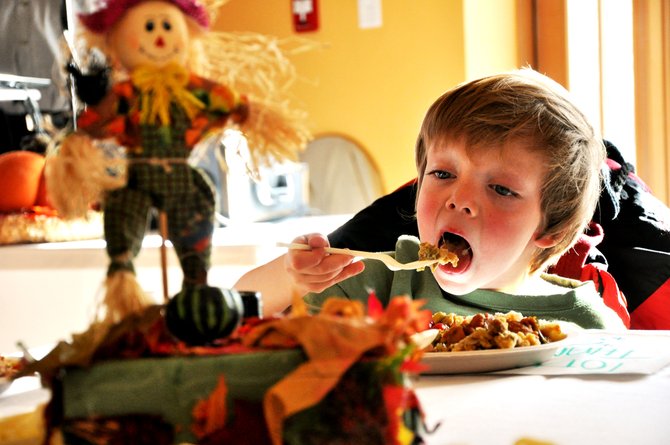 Routt County United Way Thanksgiving dinner a holiday treat
Thursday, November 24, 2011
Community Thanksgiving Dinner
Steamboat Springs — Bill Blackwell and his family received a number of dinner invitations from friends on Thanksgiving day, but they turned them all down. Instead, they joined hundreds of other people to eat mashed potatoes, turkey and stuffing to the tune of Louis Armstrong and Ella Fitzgerald's "Cheek to Cheek" in the Steamboat Springs Community Center on Thursday, an alternative Blackwell said was better.
"This is the spot," Blackwell said about Routt County United Way's annual Community Thanksgiving Dinner. "It always has a Mayberry feel to it. It's great to be eating here among all walks of life."
A group of United Way volunteers started to serve a line of hundreds of hungry community members promptly at 1 p.m., and by 2:30, the steady line of attendees had not shown any sign of letting up. But with 32 donated turkeys, more than 30 pans of side dishes including stuffing, potatoes and green bean casserole, 34 pumpkin pies and a seemingly endless supply of desserts to eat, there was no reason why it should.
"This is an event where you can come and instantly become part of the community," Routt County United Way Executive Director Kelly Stanford said. "There's always a lot of great energy here. That's what draws people in."
Stanford said the event had enough donated food to fill about 1,000 plates, and the 85 volunteers who spent Thanksgiving day preparing and serving the meal ended up serving 934 plates. Last year's event served nearly 700 people.
Gaby Strnad, who had the important task of carefully topping heavy plates with gravy, said she woke up Thursday not knowing she was enlisted to help serve the meal. But after helping top off hundreds of plates, she said she didn't mind.
"I learned that people really, really enjoy gravy, and it's been a great experience," she said. "Everyone seems really thankful and really happy. It's great to see people so appreciative of what they have. It's definitely an eye opening experience."
And Kip Strean had the important task of giving that experience a soundtrack.
"I'm trying to give dinner a little '40s flavor," he said as he tweaked a playlist on the computer in front of him. "I think this music makes it seem more like Thanksgiving."
Preparation for the event, which has been a Thanksgiving tradition in Steamboat Springs now for more than a decade, started four hours before the first plate was loaded. Eleven-year-old Zoe Walsh started preparing for it even earlier at 8:30 a.m. as she started making a green bean casserole that was later served at the dinner. Then, she was assigned dessert duty.
"It was definitely tempting to eat one," Zoe said after she helped take more than 200 plates of pie, cake and cookies from a staging area to the dining room before dinner started. Then, she said what she was thankful for.
"Today, I'm just really thankful to be with all my friends," she said.
Thursday's Thanksgiving feat was sponsored by Wells Fargo, Go Alpine, Steaming Bean Coffee Co., Artesian Co., Steamboat Meat & Seafood Co., Steamboat Smokehouse, Freshies Restaurant, Flyte Sound DJ Service, Three Wire Bar and Grill, Routt County Council on Aging, Steve Green Co., Steamboat Ski and Resort Corp., city of Steamboat Springs and United Methodist Church of Steamboat Springs.
To reach Scott Franz, call 970-871-4210 or email scottfranz@SteamboatToday.com