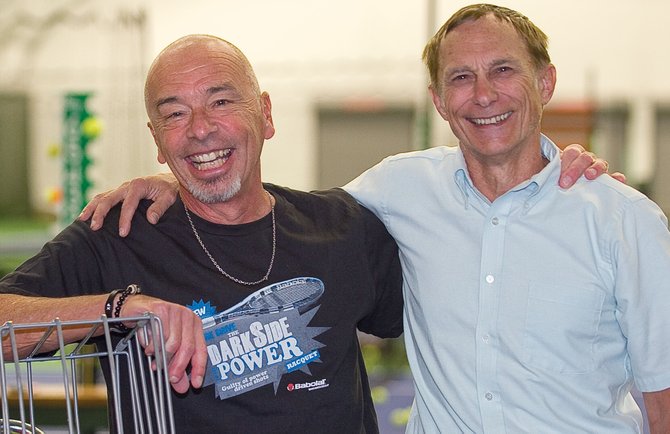 Steamboat locals continue to progress after kidney transplant
Wednesday, November 23, 2011
Steamboat Springs — On the eve of going to visit his daughters in Florida, Larry Handing walked into the Tennis Center at Steamboat Springs to see an old friend Wednesday.
Don Toy was just finishing up a tennis lesson as Handing walked through the doors and onto the courts.
It's been 14 months since the two were on the seventh floor of the University of Colorado Hospital prepping for a kidney transplant.
Every day since has been different. Handing recovered quickly while Toy battled sickness and ups and downs.
But through the past 14 months, the event has drawn the two together. The ultimate gift has given each the ultimate perspective.
"I'm really thankful," Toy said. "Everyday I feel lucky. I appreciate where I'm at every day. Even if things aren't 100 percent or close to it, I appreciate it."
Toy had battled polycystic kidney disease for seven years. His kidney was functioning at less than 20 percent. At 15 percent, dialysis is required.
"It was going quickly," Toy said. "How long it would have taken, I don't know. A couple months? Six months? I don't know."
That's where Handing, a longtime local CPA, stepped in. The two weren't great friends before, but when Handing discovered he was a match for Toy, he relied on his faith to help him with the decision.
On Wednesday, Toy asked Handing if he ever had second thoughts about the transplant.
The answer was quick, thoughtful and genuine.
"As I was going through the process, I had an apprehension things weren't going to work out," Handing said. "People will say how courageous I am. I don't look at it as a matter of courage. I look at it as a matter of faith. It was something I believed in. My spiritual sense took me there. I felt like that was what I was drawn to do."
The pair has been following different timetables since the Sept. 30, 2010, surgery. A week after the surgery, Handing was walking and exercising. Toy returned to Steamboat a month after the procedure. He said he initially felt good but then became very ill in January and February. He struggled with sickness for months before finally starting to feel well again in August.
"But I never thought it would take a year," Toy said.
Toy is doing much better now. He has continued to teach tennis and coach the boys and girls high school teams. Diabetes still remains a concern for him. He has to keep on a strict diet and drink at least three liters of water per day.
The two traded gentle jabs Wednesday — Handing giving Toy business cards to heart and lung transplant doctors while Toy joked that when he visited the doctor next, he'd hand out Handing's picture to other patients to part him out. The men know their lives always will be intertwined.
The two said a day hasn't gone by when they haven't thought about the past 14 months. Nor has a day gone by when someone in town hasn't asked them about the past 14 months.
"I'm not as much a cheerleader for organ donation as I'm a cheerleader for that sense of brotherhood and community," Handing said.
"People should be aware of other people's situations. Especially if you can do something to make it better," he added. "We're all brothers and sisters. I truly believe that."
To reach Luke Graham, call 970-871-4229 or email lgraham@SteamboatToday.com