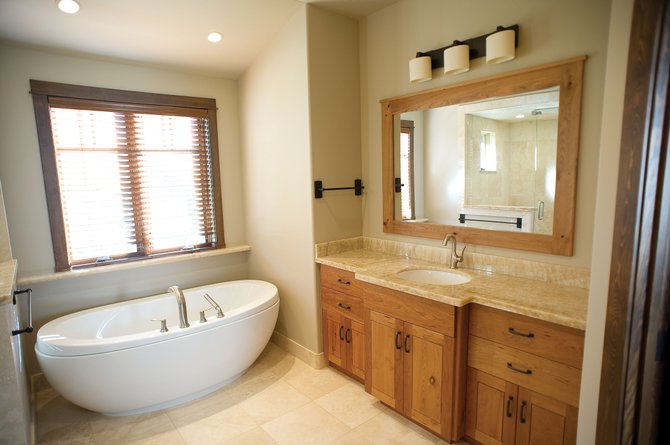 At Home: The year of the powder room
Wednesday, November 23, 2011
More bathroom beta
One of the best ways for home remodelers to research the latest trends in mountain contemporary bathrooms is to watch for open houses hosted by Realtors. In particular, the home tours hosted by nonprofits like Strings Music Festival and leading real estate brokerages provide a wealth of ideas on how to spruce up bathrooms and more.
Steamboat Springs — In these tight economic times, even financially sound households in the Yampa Valley are having to defer longtime plans to sell their homes and instead are undertaking remodels of their existing abodes.
And at the foundation of that trend is the most attainable of all remodels: refurbishing a bathroom.
Transforming the smallest room in the house easily and effectively can bring it up to contemporary standards. A bathroom is also the one place where homeowners can make the greatest, most cost-effective impression on guests by using high-end fixtures that become more affordable on a smaller scale.
So call 2011 the year of the powder room. And because bathroom remodels are relatively economical, homeowners can borrow ideas and finishes from some of the most luxurious homes in the Yampa Valley.
Photo Gallery
At Home: Over the Edge House bathroom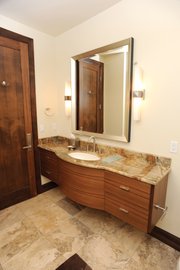 Over the Edge House
One of the best examples of bathroom ideas to borrow comes from the Over the Edge House, overlooking the Why Not ski trail from the top of Burgess Creek Road, which rents for as much as $32,000 a week between Christmas and New Year's.
Developer Don Redlinger worked with two Steamboat architectural firms — Laura Frey and Keith Kelly, of KSA — to design the large home, which is for sale and co-listed by Cam Boyd and Pam Vanatta, and retained another consultant to make certain its interior lived up to the qualities of the Ritz Carlton Club.
For one of its powder rooms, Redlinger asked the cabinetmakers at Ski Country Kitchens to create a simple yet elegant countertop that appears to be a block of walnut. It's something that every homeowner could afford. The small vanity, where no storage is really needed, keeps the bathroom from appearing cramped and small.
In the master bath, designers created a feeling of open space with a large mirror behind the tub. Instead of the traditional faucet, this one protrudes from the mirror — a dramatic effect that didn't cost much to achieve.
Redlinger even took it a step further by installing a deep infinity tub rimmed with a tray; when fully filled and the water is left on, it pours over the rim. If that sounds wasteful, the plumbing includes a quiet pump that recycles the water until the bather is finished.
The luxury in the master bath is bumped up by a heated toilet seat — not necessarily important but affordable at $85 (or $215 for the Kohler brand).
Redlinger also understands the impact an upgraded lighting fixture can make in a bathroom. Over the Edge's master has a small, three-lamp chandelier over the tub and another upgraded fixture over the double vanity. The master also has a body jet-lined steam shower, another item becoming increasingly popular in the luxury-housing industry.
"I think some people install a Jacuzzi just because they think they need to for resale value," Redlinger says. "But they rarely use them. I have a steam shower in my home, and I use it everyday." He adds that steam showers are a great way to restore a cold, weary body after a day of skiing.
Expect to pay about $1,500 for a steam generator and $500 for the control device. You may find a package, including jets, in the range of $2,800. If you don't have room in a cabinet for the box-like steam generator, you can get a row of three body jets for your shower for about $600. You'll use more water, but perhaps you can conserve by taking a quicker shower.
Photo Gallery
At Home: Covered Bridge House bathroom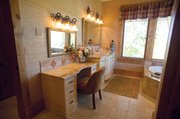 Covered Bridge House
Another Vanatta listing is the 11,000-­­­­square-foot Covered Bridge House in Catamount Ranch, which includes eight or 10 bathrooms, depending on how you count several his-and-hers rooms, which are essentially two bathrooms in one.
A guest suite is notable for the 24-karat gold hardware fixtures in the vanity.
Even if you have no desire to live up to this home's gold standard, you can borrow tips and tricks from this grand scale home to make your own bathroom upgrade more elegant.
One way is to use custom accent tiles. Covered Bridge uses tiles made by local artist Jan Willman in vanity back splashes and showers.
The home also features brass European towel warmers. If you want to impress houseguests or have a bathroom near the door to an outside hot tub, you can pick up an electrically warmed rack for less than $100.
Photo Gallery
At Home: Boulder Ridge bathroom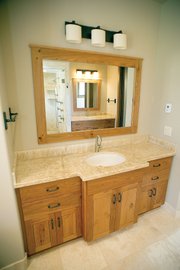 Boulder Ridge
Alicia Josfan, interior designer of a new home in Boulder Ridge, says many homebuilders and remodelers are moving away from the look of the large tub boxed in by massive surroundings to the elegance of a freestanding tub. The open space around the tub contributes to the feeling of size, and space in a bathroom, and depending on the tub, it can add sculptural qualities to the room.
The tub in the master bath at a recently completed $2 million home in Boulder Ridge is elliptical. To complement the tub, Josfan has installed slim-profile Porcher toilets. They have a subtle European look for a modest price — less than $300 for some models.
Like Redlinger, Josfan advocates steam showers over jetted tubs — they're more practical and more luxurious. "A steam shower and a simple, free standing tub is the way to go," she says.
She also advocates for mountain contemporary interiors, but emphasizes that shouldn't be confused with trendy design elements or stark modernism. "Ask yourself what will still look good in 10 years," she says.
For bathroom countertops at Boulder Ridge, she chose amber honey onyx that reinforces the warm glow of the room made possible by strategically placed windows and a bright color scheme on the walls.
Josfan selected oil-rubbed bronze plumbing fixtures for the home, but she says bathroom remodelers on a tight budget can get the same look with non-bronze fixtures. She also recommends brushed nickel hardware as an elegant, easy-to-care-for look.
For accents in shower surrounds, she has turned to panels of sliced pebbles that have a flat surface, instead of the trendier rough pebbles.
At Home, winter 2011-12