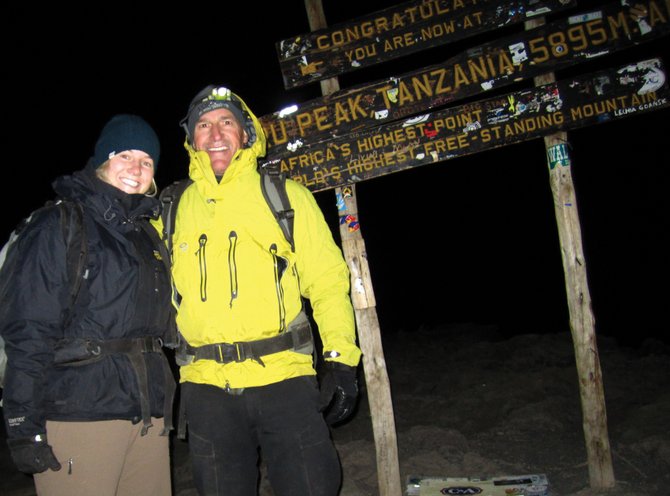 At Home: Local Matt Tredway, daughter ascend Africa's highest peak
Wednesday, November 23, 2011
Steamboat Springs — Local mountaineer Matt Tredway has taken college graduation presents to new heights.  
As a gift for his daughter, Ariel, who graduated in May from Chicago's Columbia University, Tredway took her up Africa's Mount Kilimanjaro in September, with the father-daughter duo topping out at 5:30 a.m. Sept. 15.
"It was awesome," says Ariel, whose father is a veteran of several mountaineering expeditions in the Himalayas and Andes. "We started our summit push at 11 p.m., and before I knew it, we were at the top."
She adds that it was surprisingly easy, especially because she never had been higher than 14,000 feet before. "He said I got his genes for it, which is lucky," she says. "I didn't feel any altitude sickness or anything."
To prepare for the seven-day climb, which saw the Tredways trudge from 4,000 feet to the 19,341-foot top of the fourth-highest peak of the Seven Summits, Ariel did what she could to train in Chicago. "It was pretty spur of the moment — I only had two months to get ready," she says. "So I broke in my hiking boots on a treadmill at the gym, setting it at the highest elevation I could. People looked at me pretty weird."
Ariel, who grew up in the Steamboat Springs Winter Sports Club's Nordic program, now lives in Nashville, Tenn., where she is launching a new clothing line. But the climb also has launched her on a quest to go even higher. "I'm definitely ready to try something else," she says. "I want to see how high I can go before I bonk."
As for the gift itself, she adds that she'd expect nothing else from her dad. "It's such a typical Tredway present," she says.

At Home, winter 2011-12