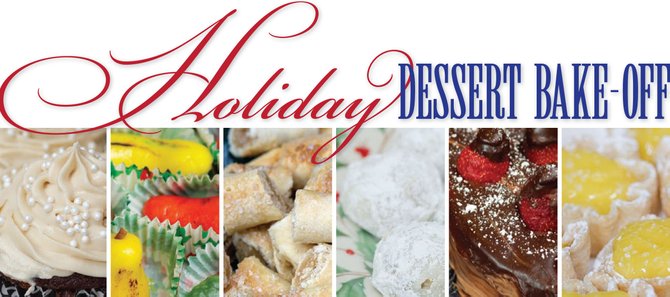 At Home: Holiday Dessert Bake-Off winning recipes
Wednesday, November 23, 2011
Document
Steamboat Springs — It's not a good time to squeeze into last year's ski pants. On Nov. 4, the Steamboat Pilot & Today, Ace at the Curve and Steamboat Moxie Home Consignments and Design held the third annual Holiday Dessert Bake-Off, letting locals strut their pies, cakes, cookies and more in front of an esteemed panel of seven judges. In all, the open house hosted 45 entries with nearly 200 community members on hand to sample the waistline-increasing wares in one of the most popular food-related events in the Yampa Valley. And the fruits of the festivities (thankfully, not the fruitcakes) live on through the recipes shared by Steamboat's best bakers. So brace your taste buds for the following look at the winners and their recipes from this year's bake-off.
Best Miscellaneous Dessert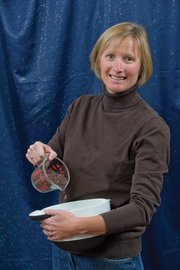 Kristi Lear & Lore Marvin's white chocolate strawberry squares
Former roommates Kristi Lear and Lore Marvin tag teamed their winning entry. "We like to bake, and it's more fun to bake together," Marvin says about their white chocolate strawberry squares. "This has become one of our favorite desserts to make."
Their entry starts with a twice-baked almond/white chocolate batter, which is folded with strawberry jam. "You can use any sort of jam you like," she says.
Lear, a teacher at Strawberry Park Elementary School, and Marvin, who works at Yampa Valley Bank, entered their molasses-based sugar and spice kiss cookies as well, but it was their squares that took the cake.
The only downfall about winning, she adds, is that now her cohorts know she (and Lear) can bake. "Everyone at work is now asking me to bring something in," she says.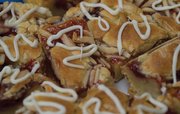 Ingredients
1/2 cup butter
1 3/4 cups white chocolate chips
2 large eggs
1/2 cup sugar
1 teaspoon almond extract
1 1/2 cups all-purpose flour
1 cup strawberry preserves or jam
1/3 cup sliced, natural almonds
Directions
Heat oven to 350 degrees. Line a 9-inch-square pan with foil, letting it extend 2 inches above pan on opposite sides. Coat with nonstick spray.
Melt butter and 1 1/2 cups white chocolate chips in a medium saucepan over low heat (mixture will look curdled).
Beat eggs and sugar in a large bowl with mixer on medium-high speed until lemon colored. Stir in white chip mixture and almond extract until combined, then add the flour just until blended. Remove and reserve 1/2 cup batter. Spread remaining batter in prepared pan.
Bake 20 minutes or until light golden. Gently spread preserves evenly over crust. Spoon dollops of reserved batter over top; sprinkle with almonds.
Bake 30 to 35 minutes until lightly browned. Cool in pan on a wire rack.
Lift by foil ends to a cutting board. Melt remaining 1/4 cup white chocolate chips as package directs. Scrape into a small, sturdy plastic zip-top bag. Snip off tip of a corner and drizzle top with back-and-forth lines. Let set. Cut in 36 squares; remove from foil.
Community choice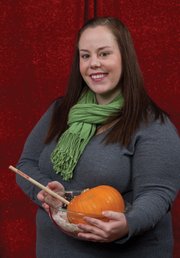 Meghan McNamara's pumpkin cake with cream cheese frosting
If only her grandma Rita Kelly could see her now.
"She taught me how to bake when I was little," says Meghan McNamara, 22, whose pumpkin cake won the People's Choice category.
Born and raised in Steamboat, McNamara, a teen coordinator for Horizons Specialized Services, tweaked a recipe she downloaded from www.southerncooking.com by adding spices and vanilla.

Since entering an almond coconut date cake last year, and experimenting with an orange/cranberry cake "which didn't turn out very well," she's glad to have stumbled upon her winning recipe.
"I was looking for some holiday flavors," she says. "I knew it was good, but I wasn't confident it would win. It was a pleasant surprise."
Pumpkin cake ingredients
2 cups sugar
1 cup vegetable oil
4 eggs
1 teaspoon vanilla
2 cups flour
2 teaspoons baking soda
1 teaspoon baking powder
2 1/2 teaspoons cinnamon
1 teaspoon ginger
1/4 teaspoon nutmeg
1/2 teaspoon salt
2 cups pumpkin
Directions
Grease and flour two 9-inch baking pans. Combine sugar, oil, eggs and vanilla, and mix together well. Add pumpkin and stir. Sift together the flour, baking soda, baking powder, cinnamon, ginger, nutmeg and salt. Slowly stir together the wet and dry ingredients. Pour into pans and bake for 30 to 40 minutes at 350 degrees.
Cream cheese frosting ingredients
1/4 cup butter
8 ounces cream cheese
1 pound powdered sugar
2 teaspoons vanilla
Directions
Mix the butter, cream cheese and vanilla together. Slowly add the powdered sugar.
Best presentation
Chelsea Soderberg's hot chocolate and Baileys cupcakes
One look at Chelsea Soderberg's hot chocolate and Baileys cupcakes, complete with vanilla Pirouettes sticking into a liqueur frosting, is all it takes to make your mouth drool. "Hot chocolate and Baileys is one of my favorite winter drinks, so I thought why not put it in a cupcake?" says Soderberg, who created the treats specifically for the contest.
Working in the ski resort's retail department, Soderberg moved to Steamboat from Denver six years ago. She says she's just starting to get into the baking/catering business, specializing in cinnamon rolls, muffins and cupcakes. And she'll likely continue to make her winning concoction, as well. "I just like how fun cupcakes are," she says. "Everyone loves a cupcake."
Hot chocolate and Baileys cupcakes ingredients
3/4 cup butter
3 eggs
2 cups flour
1 teaspoon baking soda
3/4 cup unsweetened cocoa power
3/4 teaspoon baking power
1/2 teaspoon salt
2 cups sugar
3 teaspoons vanilla
1 1/2 cups milk
Directions
Allow butter and eggs to stand at room temperature for at least 30 minutes. Line cupcake pans with foil liners and grease the cups. Preheat oven to 350.
Stir together flour, cocoa powder, baking soda, baking power and salt; set aside. In a large mixing bowl, beat butter with an electric mixer. Gradually add sugar, beating at medium speed until well combined. Add eggs one at a time, beating after each egg. Beat in vanilla. Alternately add flour mixture and milk to butter mixture, beating on low speed after each addition.
Spoon batter into cups about 2/3 of the way full. Add a spoonful of the fudge filling to each cup and allow it to sit on top.
Bake for 20 to 25 minutes. Cool before frosting.
Fudge filling ingredients
3 tablespoons butter
6 semisweet chocolate squares
1/2 cup milk
1 teaspoon vanilla
2 teaspoons Baileys Irish Cream
3 cups sugar
Directions
Melt the butter and chocolate together in a saucepan over low heat. Stir once melted. Move the chocolate mixture to a mixing bowl. Add milk, vanilla and Baileys to the chocolate. Blend until well mixed. Sift the sugar. Slowly add the sugar to the chocolate mixture. Mix until smooth. The chocolate fudge can be set aside until ready to add as a filling.
Frosting ingredients
2 sticks of butter (room temperature)
3 cups powered sugar
3 teaspoons vanilla
4 tablespoons Baileys Irish Cream
milk (if needed)
Directions
Cream together butter, powdered sugar, vanilla and Baileys. Add milk if it is too thick.
Best cake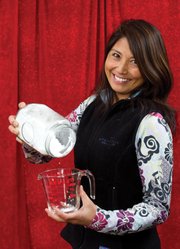 Debbie Edgerton's toasted coconut rum cake
Cake category winner Debbie Edgerton admits that she "totally failed" with her cranberry fig bars last year. The sales executive at One Steamboat Place made up for it this go-around with her winning toasted coconut rum cake.
"We're going to Mexico over Thanksgiving, which got me thinking about rum and the tropics," she says.
She based her concoction on an original Bacardi rum cake recipe, experimenting with different spices and rums, including Meyer's dark and Malibu coconut. "It has rum in the cake, the sauce and the glaze," she says. "It's not really a breakfast cake."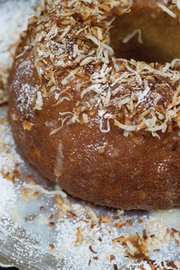 Coconut rum cake ingredients
1 box yellow cake mix
1 small box instant vanilla or coconut cream pudding
1/2 cup vegetable oil
1/2 cup water
1/2 cup Meyer's dark rum
2 tablespoons Malibu rum
4 eggs
2 tablespoons flour
Directions
Preheat oven to 350 degrees and grease and flour Bundt cake pan. In a large bowl, beat the cake mix, pudding mix, rum, water, oil and eggs until smooth. Add flour and mix until blended. Pour into prepared pan and bake at 350 degrees for 45 minutes.
After removing cake from oven, poke holes into cake in the pan and pour half of rum sauce over cake to soak. Invert cake onto platter and, with a pastry brush, paint the remaining rum sauce over cake.
Paint glaze onto warm cake, and top with toasted coconut.
Rum sauce ingredients
1/2 cup butter
1/2 cup sugar
1/2 cup water
1/2 cup Malibu rum
Directions
Make rum sauce by melting one stick of butter and water over low heat. Add sugar and mix until dissolved. Increase to medium-high heat and boil mixture for about 90 seconds.
Glaze ingredients
1/4 cup butter
1/4 cup brown sugar
1/4 cup Meyer's dark rum
1/4 cup Malibu rum
Directions
Melt butter and add brown sugar and mix until dissolved. Add rum and bring to a boil. Boil for about five minutes until the mixture thickens and becomes a caramel sauce.
Best cookie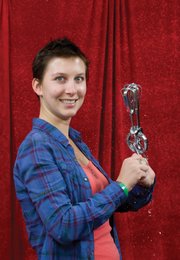 Hannah Hall's lemon basil and white chocolate cookies
Moving to Steamboat from the Maryland Institute College of Art in Baltimore, Hannah Hall, 22, had been in town for only two weeks before entering and winning the coveted Best Cookie category. "I saw the ad in the paper and decided to enter," she says. "But I didn't expect to win. There were some great entries."
None as good as her lemon basil and white chocolate chip cookies, which were inspired by the herbs she grew in her apartment. "I usually pick a random ingredient and see what I can make with it," says Hall, who works at the Kids' Vacation Center. "I had a bunch of basil and thought it would go good with lemon."
Hall started an online cookie business (www.steakbakes.com) a year ago, which she continues to operate in Steamboat. On the site, visitors will find 12 types of cookies, including such other flavor combos as bacon/chocolate chip and dark cherry/balsamic vinegar. "I have a basic cookie recipe that I like to convert," she says.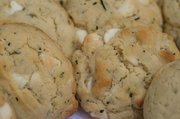 Ingredients
1 3/4 cup flour
3/4 teaspoon baking soda
1 teaspoon salt
1/2 cup butter
1/3 cup granulated sugar
1/4 cup light brown sugar
1 egg
1 teaspoon vanilla
1/4 cup fresh, chopped basil (or 2 tablespoons dried)
3 tablespoons lemon juice
1 cup white chocolate chips
Directions
Preheat oven to 365 degrees. Cream butter and sugar together. Add egg, vanilla and lemon juice. Beat by hand for 1 to 2 minutes. In a separate bowl, mix flour, baking soda and salt together. Add bit by bit into the wet ingredients, stirring constantly. Fold in white chocolate chips. Place on a greased baking sheet. Bake for 8 to 11 minutes.
Best pie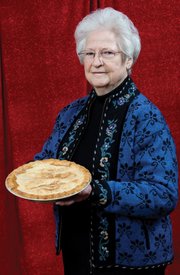 Grace Compestine's apple pie
Who would have thought that the Best Pie category would have been won by regular ol' apple?
The children of winner Grace Compestine, that's who.
"I called my son and told him I won and he said, 'It doesn't surprise me,'" says Compestine, who has lived in Steamboat Springs since 1944. "But it's just a plain old apple pie."
Hardly. Compestine has been spicing up her original Wesson oil recipe for 20 years, using Jonathan apples and a milk-and-oil crust. She's made it that way for her husband, Melvin, and three grown children, all born and raised in Steamboat, for as long as she can remember. The event's judges and samplers remembered it, too.
"By the time I got to the tasting, it was already all gone," Compestine says. "I guess that says something."
Ingredients
Stir-N-Roll Pastry (double crust)
2 cups sifted all-purpose flour
1/4 teaspoon salt
1/2 cup Mazola oil
1/4 cup cold whole milk
6 cups Jonathan apples, pared, thinly sliced
1 cup sugar
2 tablespoons flour
1/2 teaspoon cinnamon
1/4 teaspoon nutmeg
1/8 teaspoon salt
Dots of butter
Directions
Pour oil and cold milk into same measuring cup and pour all at once into flour
Stir lightly to mix. Dough looks moist but isn't sticky
Roll pie crust between two 12-inch squares of wax paper. Peel off top paper.
Pastry clings to bottom paper. Center over pan. Peel it off carefully. If dough tears, simply press together.
Prepare apples. Combine dry ingredients; mix with apples to coat. Put into pastry-lined 9-inch pie pan. Dot with butter. Cover with top crust; cut slits for steam to escape. Make high-fluted rim.
Bake 35 to 45 minutes until nicely browned and juice begins to bubble through slits in crust.
At Home, winter 2011-12