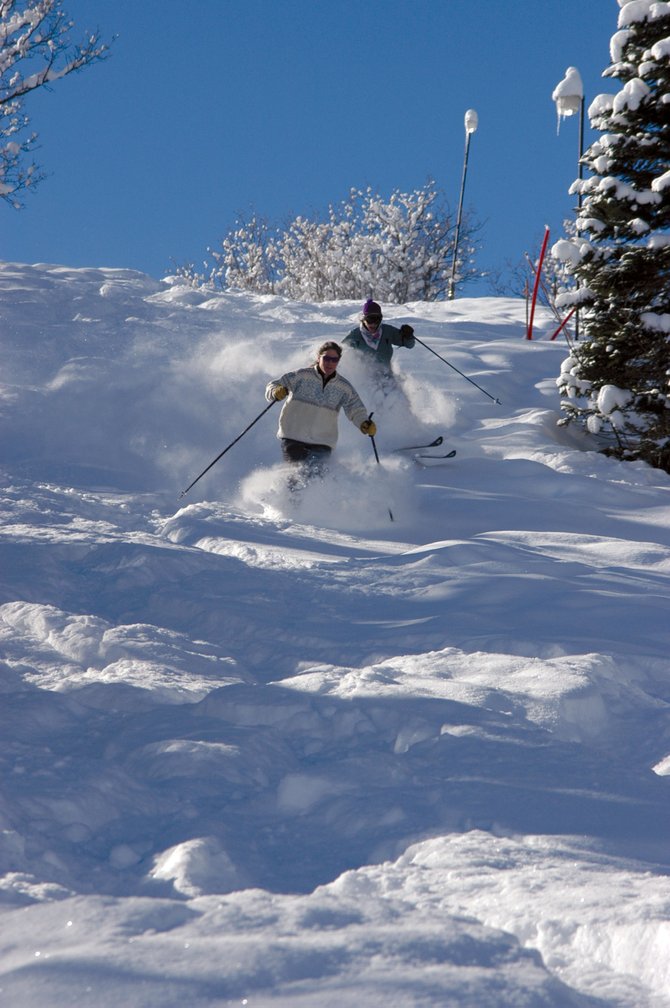 At Home: Growing number of locals keep winter recreation close to home
Wednesday, November 23, 2011
Skiing in your own backyard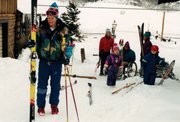 Steamboat Springs — When 10th Mountain Division veteran William A. Bowes moved to Steamboat Springs in the early 1960s, he was torn between buying a blue, turn-of-the-century Victorian house on Pine Street and a more rustic, one-bedroom abode at the mouth of Strawberry Park. The potential for a ski hill in the backyard sealed the deal.
"There was no question," says grandson Cedar Beauregard. "He wanted a ski hill in his backyard."
Purchasing the property in 1962 and eventually raising seven kids there, one of the first things on his honey-do list was installing a rope tow, which he did in 1965 thanks to a Norwegian engine and gear box ordered by Dennis Lodwick, father of Olympian Todd.
With a 200-vertical-foot slope cut through a forest of sub-alpine fir, the run is no slouch, serving up terrain for everything from gates to groomers. "It's perfect," says Beauregard. "It's steep enough for powder and bumps, but also great for gates. It actually kicks a lot of people's butts."
So does the lift, which benefitted from a new, five-horsepower motor last year but whose rope — still the original — is on its last legs. "It's almost as hard going up as it is down," says Sue Rife, the oldest of the seven children. "It's a pretty good arm workout."
Forearm pump aside, the seven Bowes children used it as regularly as today's kids do electronic gadgetry, side-stepping up it every November to pack it out and skiing it almost daily. The backyard run helped daughter Heidi spend 12 years on the U.S. Ski Team and son Mike make the NorAm team.
"We skied it every chance we got and still do," says Rife, adding that her dad often would take photos of his kids on the run to analyze their form. "You can set up a 20-gate slalom course on it. We used to hold huge slalom parties there until 2 a.m." Adds Beauregard: "We used to hold ski-keggers there in high school under the lights."
The Bowes still use it for ski parties at Christmas, birthdays and any other reason to celebrate they can find, keeping the backyard tradition still very much alive. Bowes' grandson, Cactus Beauregard, lives at the home with his wife, Chula, and their two sons, marking the fourth generation to schuss the backyard hill. "Cactus still skis it pretty much every day after work," Cedar says. "And his kids are getting out on it also."
Home on the rails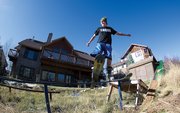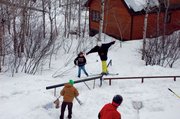 Sure, the rails might be bigger at the Bashor Terrain Park at Steamboat Ski Area, but they're certainly not as accessible for local park skier Penn Lukens.
Lukens has taken the liberty of creating his own rail course in his backyard off Telemark Court. In all, he sets up two 10-foot rails and one eight-foot rail year-round in his yard, drawing kids from throughout the neighborhood. In the summer, the glide is provided by AstroTurf. In the winter, snow provides the speed
"I bought one used rail from the Winter Sports Club, and got the other from friends in Aspen," Lukens says. "It was the old support beam from their house, so we strapped it onto our roof and drove home with it after a hockey game."
The homespun rail-grinding before and after dinner time is paying off. Lukens is the current Nor-Am URTUR half-pipe Grand Prix national champion, with last year's tour win earning him an invitation to March's World Cup finals in France, where he finished 10th. Fighting off other neighborhood kids for rail time likely also helped him win last year's United States Ski and Snowboard Association ski cross national championships.
He says the course has hosted as many as 15 kids at once, with four flood lights ensuring they can rail slide till the cows come home (at least when they don't have any homework).

"We use it all the time," Lukens says. "It's great to have something like that at your home. You can just be hanging out and then go outside for a quick session."
The rails also enable him to use skills picked up in math class; since his backyard doesn't have much gradient, he had to engineer a solution, building a ramp attached to his shed to provide the needed pitch. And thanks to its coating of AstroTurf, they can even use it on the Fourth of July.
"The only problem with summer is that there are a bunch of prickly bushes in the landing," he says.
Tubing off the terrace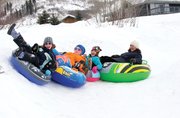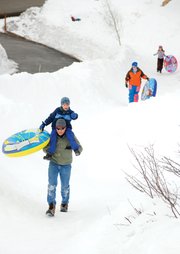 You don't have to go to Howelsen Hill to fill your winter tubing jones. Some people make do quite well in their backyards. And the more neighbors involved the merrier.
Such is the case with the annual tubing hill created by neighbors off Blue Sage Drive. Every winter, as many as five households chip in their backyards for a communal tubing route even Disney would relish. Complete with arterial paths feeding in from different backyards like river tributaries, tube-spilling bank turns and a massive wall blocking riders from careening into the cul-de-sac at the finish, it's a labor of love, with the neighborhood kids the primary beneficiaries.
The mastermind — and lead snow blower, clearing the track after every storm — is Bill Kruger, who first rallies neighbors to weed-whack the area before the snow falls. "Once a couple of feet fall, we get out on snowshoes to pack it down," he says. "Then we start making the banks. It definitely takes a little work."
Kruger and company can pack down or shovel small storms, but when bigger ones come, it's time for the snowblower. "I hate to think about how many man-hours we put into it each year," says Kruger, adding that the key is to blow it early while the snow is still fluffy.
Once completed, the trail winds through five backyards, encompassing more than a quarter-mile of high-flying fun. "There's no written agreement between us or anything," Kruger says. "But everyone pitches in to help build it."
While some parents shuttle their kids back to the top in cars, most riders grab their tubes and hike back up the track, keeping a wary eye out for careeners-by, who force would-be bowling pins to hightail it up the sides. The neighborhood hosts pot-luck, full-moon tubing parties throughout the year, complete with signs posted around the neighborhood and hot dogs at the finish. "It's a great little neighborhood thing to do," Kruger says. "And it's a great testament to living in Steamboat."
Kruger, of course, is always one of the first to test the spoils of his snow blowing. "A lot of adults in the neighborhood have found that they've never quite grown up," says neighbor Tammy Lake, whose house marks the finish. "My kids often show up at Bill's door and ask his wife, Carolyn, if Bill can come out and play."  
Ice climbing out the kitchen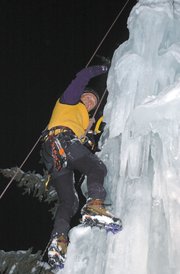 Ten years ago, John Beaupre looked out in his backyard and had a brainstorm.
"It was a big snow year, and this big icicle was hanging out of a cottonwood," says Beaupre, an avid ice climber who has ascended routes across the country. "So I thought I could improve it."
That he did. He rigged up a system of insulated hose, ran it up the back of the tree, affixed a spray nozzle to it, and let it spray onto a chain he hung down from the branch. Voila! An ice-climbing tower was born, complete with I-bolts for protection.
Of course, it also took a bit of trial and error.
"The first time the ice got way too heavy and the whole thing fell down," he says. "Then the branch broke, so I had to put in an artificial one. It took a few years of experimenting."
Now that he's refined his technique, utilizing multiple chains and a hose with a series of valves, the result is, if not Eiger-like, at least a fair alternative to nearby Fish Creek Falls. During his best year in 2007, he created a 50-foot-high vertical column that measured nearly 40 feet around its base.
"It forms itself pretty vertically," he says. "Now, once it's up, it never falls down."
To create his mega-cicle, he usually turns the water on around Thanksgiving, with the ice becoming climbable just before Christmas. Because it's facing north in the shade, he says he usually can climb it from January into April. "It usually takes about a month to get climbable," he says. "But once you turn the hose on, you have to leave it on."
While he's rigged it with static lines and a chest ascender so he can climb it solo ("Honey, I'll get to the trash after a quick climb"), he's also keen on sharing his icicle. "We used to have Wednesday night climbing parties where we'd turn on the lights, crank some Beethoven, cook up some hot cider and climb until it got too cold," he says. "It's great because you can go right back inside."
Rink around the rose bush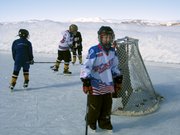 That Jonathan, 17, and Patrick Milne, 15, are playing hockey for Massachusetts boarding school Middlesex owes itself largely to a rink in their backyard.
For the past eight years, their father, Bob Milne, has built a homemade rink at his house off Clubhouse Drive, providing local kids with ice time even when the Howelsen rink is closed.
"One of the main reasons they're playing at the level they are is because they spent so much time on our rink at home," says Milne, who coached the 2008-09 and 2009-10 bantam teams to back-to-back state championships. "Plus, it's a great way to bond with your kids."
While the rink-side bonding might be easy, building the rink isn't. To procure three months of skateable ice a year, Milne spends about two hours per day to maintain it — especially during snow years like we had last winter. Like being solid on your feet on the ice, it comes down to having a solid foundation underfoot.
To build his annual 40-by-60-foot rink, Milne has to outsmart Mother Nature by getting the boards up and liner down and filled with water during the first week of November before the first snow comes. A key, he adds, is not using too much water — six to eight inches is perfect, any more makes it too hard to freeze.
"The ideal conditions are an early cold snap before Thanksgiving without any snow," he says. "If you can get four to five nights of 15-degree temperatures before it snows, you're golden, and your base will be set for the season. But if you don't get a good base and you get a big snow, you're fighting slush."
While countless other locals fall prey to this preoccupation — Milne estimates that on any given year there are five or six other backyard rinks in town — many end up scrapping their plans before getting a chance to set blade to ice. But not the master, Milne, who has yet to lose the battle.
Of course, he also pays the price. He's oftentimes out on his rink at midnight with a piece of PVC pipe littered with holes attached to a hot water-fed garden hose to serve as a primitive Zamboni. But it all pays off.
"It's one of the better backyard rinks in town," he says. "A lot of people come up to use it. We even set up the lights and have neighborhood tourneys at night. I often even had the bantams practice up here when they couldn't get ice time at Howelsen."
At Home, winter 2011-12