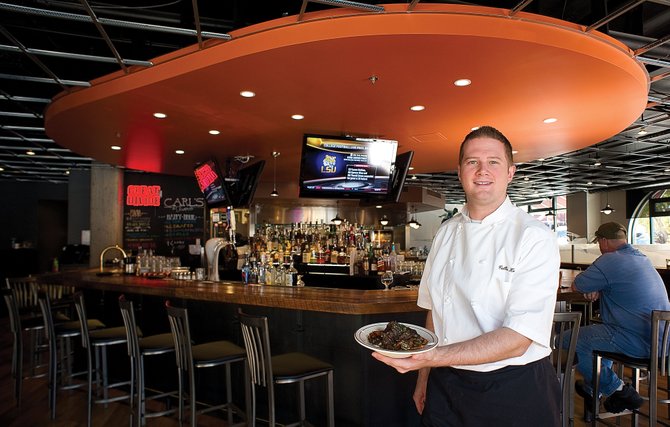 At Home: Down home cooking with Carl's Tavern's Collin Kelley
Wednesday, November 23, 2011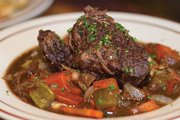 Steamboat Springs — Collin Kelley learned the ins and outs of a busy kitchen from a group of farm wives in a one-stoplight town in Eureka, Kan. And he cooked not for pleasure, but as a means of survival.
"I started learning to cook at age 9," says Kelley, who recently opened Carl's Tavern in downtown Steamboat Springs with his wife, Noella. "I started by making things like spaghetti and meatballs."
A bus boy at a family restaurant before he graduated high school, Kelley says his path to a head chef position and eventually to a restaurateur started with more modest roles that required washing dishes and learning about every aspect of a restaurant's operations from the ground up.
Now 27 years old and undoubtedly one of the youngest restaurant owners in Steamboat, Kelley stands behind flatiron griddles mixing the cooking techniques he learned in rural Kansas with the culinary skills he picked up as a student at Johnson and Whales University's culinary arts school in Denver.
"After culinary school, I took the best of the tricks I learned from the farm wives and mixed them with what I learned in school to create something more refined," he says.
As he sprinkles parsley on top of a freshly cooked pot roast at his new restaurant on Yampa Street, Kelley says cooking is about achieving a delicate balance. He crafts his menus so that patrons can be served the things he himself grew up eating.
"You can't argue with good," he says, adding that come winter, he predicts his pot roast will become one of the "hottest dishes in town."
"A lot of chefs make their dishes too technical or too froufrou, and they can become inaccessible to some peoples' pallets," he says. "I like to think cooking is not so much about presentation as it is about creating really good food."
A former chef at fine dining joints in Denver that included Ruth's Chris Steakhouse and Del Frisco's, Kelley says his journey to the Yampa Valley began while he was recovering from a skiing accident in Breckenridge. Unable to work for nine months, Kelley came to the realization that he wanted to stop cooking at fine dining establishments and instead cook in a kitchen of a restaurant that more closely resembled the small family restaurant in Kansas he grew up working in.
In Kelley's current kitchen at Carl's Tavern, which is open for all patrons to see, fresh is a buzzword.
The batter for the Tavern's chicken wings is homemade, and when patrons ask for a pickle, they're handed a whole jar.
Several of the dishes, such as the pot roast, are started two days before they are plated because they need time to marinate.
"I like to make everything from scratch," Kelley says. "I don't use any bag food. I even use a craft approach for chicken wings."
Kelley adds that he simply likes to make the food he grew up eating.
"I graduated high school as a line cook," he says. "Being in this business for so long, I know what's fresh and made by hand as opposed to cutting corners."
And from the restaurant's rounded, horseshoe-shaped bar to Kelley's emphasis on using fresh ingredients every step of the way, you won't find any corners cut at Carl's.
Carl's Tavern pot roast
12-ounce certified Angus beef chuck
Carrots, celery, onions
Salt, pepper
Red wine
Parsley
Garlic
Mashed potatoes
Beef stock
Gravy
Season roast with salt and pepper.

Sear meat on flat griddle, set aside. Mix carrots, onions and celery with garlic and cook on griddle until soft.

Place beef in a casserole dish and cover with vegetables. Add two to three cups of red wine to beef broth to cover meat and vegetables. Add bay leaf and roast overnight for 12 to 15 hours at 280 degrees.

Remove vegetables and drain liquid.

Serve vegetables, meat and broth over mashed potatoes and gravy.
At Home, winter 2011-12