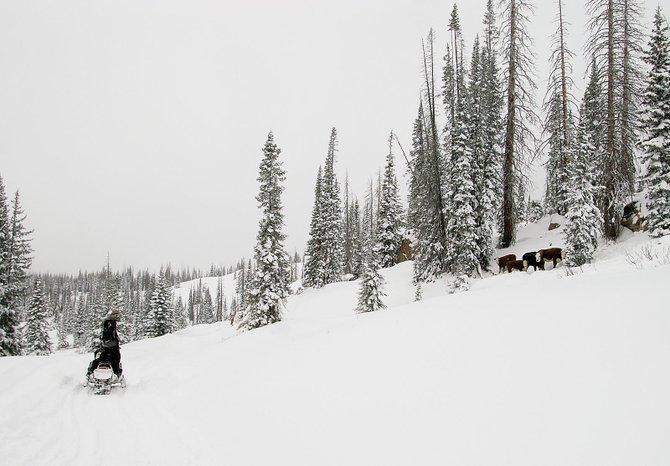 Cows stranded near Summit Lake could see Turkey Day rescue
Wednesday, November 23, 2011
Steamboat Springs — U.S. Forest Service personnel were teaming with North Park cattle ranchers Wednesday in an effort to rescue a pair of white-faced Angus cows and their calves that are stranded in the snow near Summit Lake, above 10,000 feet on Buffalo Pass.
"I'm very interested in (their plight)," Hahns Peak Ranger District Range Management Specialist Erik Taylor said. "This is the kind of thing that upsets people — and it upsets me, too. We don't want those animals stranded and starving up there."
Snowmobilers using the Buffalo Pass area for recreation have observed the cattle huddled under a spruce tree. On Friday, two North Park ranchers set out on horseback from the vicinity of the Grizzly Creek Guard Station on the east side of the Continental Divide, and Forest Service personnel on snowmobiles headed up the pass from Dry Lake Campground on the west to see if together they could round up the stranded beeves.
Taylor said earlier this week he thought he knew to whom the valuable cattle belonged but couldn't be certain because it was difficult to read their brands under their shaggy winter coats. However, the nearest Forest Service grazing permit is on the eastern side of the Continental Divide, suggesting the cattle belong to a rancher in North Park.
"I think they came over the top from the North Park side," Taylor said. "If we have to, we will either use snowmobiles or a snowcat to clear a trail for them on whatever side (of the Continental Divide) we can. We may consider trying to feed them in the meantime. We will take some form of action."
Taylor said the grazing permit in question is outside his jurisdiction, and his counterpart in the Park Ranger District in Walden is out of town. However, he is working across ranger districts to get the cattle out of the high country before winter really sets in.
A snow-measuring site near the summit of Buffalo Pass reports that the early season snowpack is almost 3 feet deep. After 11 inches of snow fell Sunday and 2 more inches accumulated Tuesday, the snow depth stands at 34 inches.
The snow will settle and consolidate during the course of the winter on Buffalo Pass, where an all-time record snow depth for Colorado of 200 inches (16.6 feet) was recorded in early May.
Taylor said reports of stranded cattle are uncommon, and with current beef prices, there should be a strong motivation for the rancher to recover them.
"This is about the second time in 10 years I've seen this," he said.
To reach Tom Ross, call 970-871-4205 or email tross@SteamboatToday.com