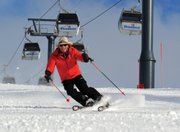 Past Event
Wednesday, November 23, 2011, 8:30 a.m. to 4 p.m.
Steamboat Ski Area, Mount Werner Road, Steamboat Springs
All ages / Free - $30
Open lifts
Gondola, Christie Peak Express and Burgess Creek
Open trails
Green: Arc, Big Foot, Boulevard, Flat Out, Park Lane, Right-O-Way, So What, Stampede, Why Not (upper only) and Yoo Hoo
Blue: Blizzard, Ego, Heavenly Daze, Jess' Cut Off, Lightning, Rainbow, Rudi's Run, Sitz, Skyline, Tower and Vogue
Black: Burgess Creek Lift Line and White Out.
Steamboat Springs — Scholarship Day will seem more like a spring day with sunny skies and temperatures forecast to reach the 40s today.
The conditions are different from last year's when the most opening terrain ever at Steamboat Ski Area led to a record-setting fundraising day for the Steamboat Springs Winter Sports Club, but Executive Director Rick DeVos is optimistic.
DeVos said some early season snowfall — including a storm this past weekend that left 14 inches on Mount Werner — and low temperatures have created good conditions for snowmaking.
"There's a lot of excitement," he said. "I've heard reservations are up for the year. It's really good for Steamboat. I hope everyone will come out and celebrate with us as we kick off the winter season here."
Proceeds from ticket sales during the 21st annual Scholarship Day benefit the Winter Sports Club. Tickets are $25 for an all-mountain ticket and $20 for a lower-mountain ticket with access to the Christie Peak Express lift.
Season passes won't be valid until Thursday, the official Opening Day of the 2011-12 season, the ski area's 49th.
Scholarship Day has generated about $675,000 for the Winter Sports Club since 1991-92, including $76,665 last year.
DeVos said the club's scholarship fund provides some financial assistance to 80 to 90 athletes. He said the club has about 1,000 athletes, from 3 to 80 years old, who pay $70 to $4,000 depending on age and program participation.
Steamboat Ski and Resort Corp. announced Monday that three lifts would serve 23 trails on about 250 acres.
Christie Peak Express, the gondola and Burgess Creek will serve 10 green, 11 blue and 2 black trails:
■ Green: Arc, Big Foot, Boulevard, Flat Out, Park Lane, Right-O-Way, So What, Stampede, Why Not (upper only) and Yoo Hoo
■ Blue: Blizzard, Ego, Heavenly Daze, Jess' Cut Off, Lightning, Rainbow, Rudi's Run, Sitz, Skyline, Tower and Vogue
■ Black: Burgess Creek Lift Line and White Out
Ellen Heffernan, a meteorologist with the National Weather Service in Grand Junction, said base area temperatures would reach the low 40s with slightly lower temperatures at the summit. She said it would be breezy in the afternoon, with gustier winds coming Thursday when temperatures are forecast to be similar.
Heffernan said there's not a chance of snow until Friday, which would be followed by a dry spell.
"Even through the holiday, it should be pretty mild," she said. "If you want a winter storm, you'll have to wait."
Ski Corp. spokeswoman Loryn Kasten said Monday's terrain announcement hadn't changed after three inches of snow fell Monday night. The ski area now is reporting 46 inches of snow and a 23-inch base.
Kasten said Ski Corp. crews on the mountain Tuesday reported favorable snow on open trails, especially Heavenly Daze.
"The warm weather combined with that snowmaking will make a nice snow product," she said.
Ski Corp. will give free T-shirts to the first 100 people in line at the gondola. The ticket office opens at 8 a.m.
DeVos thanked in advance Ski Corp. and members of the community who will support the Winter Sports Club on Scholarship Day.
"It is the one and only primary source of funds that helps families in financial need," he said. "It is a critical day."
— To reach Jack Weinstein, call 970-871-4203 or email jweinstein@SteamboatToday.com