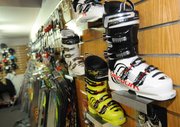 Picking your boot
John Kole, of One Stop Ski Shop in downtown Steamboat Springs, went to school to learn how to properly fit ski boots and has all the certifications to prove it.
"Custom boot fitting is equal parts art, science and love," he said. "We just love your feet."
He had a few tips for those looking for a proper fit.
■ Starting at the bottom: "The boot is the most important piece of equipment, and the foundation is the most important part of a good fit," he said. He highly recommended a custom footbed, which can be molded to provide a tight fit with the base of the foot and allow for greater control and comfort. They run $175, or $99 with a boot purchased at his shop, and he said it's worth buying a cheaper boot to afford the insole.
■ Loosen up: Stiffness always has been the name of the game, and a good, super-tight fit still is for elite skiers or racers. For the rest of us, technology has downplayed the importance of super-stiff boots. "I often find that people buy boots above their ability level," he said. "We don't need that radical stiff boot the way we used to when we were on straight skis."
■ Think back: One Stop is knocking 30 percent off in the days after Thanksgiving. That's nothing compared to the steals often available on last season's stock, though. Kole said that a few 2010-11 boots remain and that they're available at a 60 percent discount.
Steamboat Springs — Dillon resident Diane Godfrey knows all there is to know about uncomfortable ski boots.
In her 50 years swooping down Colorado slopes, she's been through about 20 pairs, she said after searching for a estimate Friday afternoon inside Steamboat Ski & Bike Kare in downtown Steamboat Springs.
Very few of those boots have evoked the reaction her newest set did.
She waited for them to heat and cool while pressure sacks were strapped to her feet and while the boots were latched in place.
Finally, when they were ready, she buckled them on herself and gave up a single, warm smile.
"They feel great," she said, her face warming as the realization kicked in. "These are amazing."
A new fit
"Amazing" is just the reaction Harry Martin and the crew at Ski & Bike Kare were hoping for this autumn when they took a big gamble on a fancy new piece of equipment and a new line of boots.
The Fischer Vacuum ski boots are unique. For years, boots have been developed to be more comfortable. New technology in boot liners has allowed them to be shaped to a skier's foot via a heating process. The Fischer Vacuum, though, claims to be a revolution to that revolution. It's focused not only on molding a liner to a foot but also molding an entire boot to a foot, hard plastic shell and all.
"This is the first time shells are doing that," Martin said. "It will actually conform to the shape of your leg. ... This way, you're going to be able to get more comfort than you will with any other boot."
It's not a complicated process to tailor-fit a hard plastic shell to a particular foot, but it's not as simple as pointing to a model on the wall and slipping a foot in, either.
There are four models available from Fischer, three for men and one for women, and they typically vary in price from $750 to $1,000, coming in about $100 more than a traditional boot would.
First, the boot shells are placed in a small heater and warmed for about 15 minutes until the once-hard plastic becomes malleable.
Then, they're fitted to a customer's feet and wrapped with an inflatable pillow, which is hooked to an air compressor. The name says "Fischer Vacuum," but really it's the opposite effect that leads to the comfortable fit. The pillows are blown up with the compressor, reforming the plastic around a skier's foot.
After seven minutes, the pillows are deflated, and after a few more minutes of setting, the boots are ready.
Trending comfort
Business has been brisk, Martin said, and there was plenty of evidence to support that Friday.
Godfrey was there with Stapleton resident Dave Servinsky. He admitted that was a long way to drive for a pair of boots, but it was their only option. Only about 20 shops in the nation have the Fischer Vacuum equipment, and only five in Colorado. Only Ski & Bike Kare had the sizes they needed.
He pointed to his uniquely shaped toes and said he was hopeful he'd found the answer to comfort during the 50 to 60 days he figures to log this season.
"This is what I've been praying for," he said.
Boot comfort is no new goal and seems to take giant leaps with each year's new products, longtime professional fitter John Kole said.
Kole, who runs One Stop Ski Shop in downtown Steamboat, pointed to the Atomic brand.
"The big thing last year was a wider forefoot area with flexible sidewalls," he said. "That can allow the foot beyond the dimensions of the hard plastic shell because there is soft, squishy foam there to accept a wider foot."
Last year, a few Atomic boots came with the feature. This year, many more do. He also pointed to an Apex brand boot which essentially is a soft snowboard-style boot wrapped by a carbon graphite frame.
"You can walk in it, drive in and even snowboard in it," he said.
"People have been asking for something like that, and that boot is the answer."
The Apex has two models that retail at One Stop for $1,295 and $1,495. What was comfortable this year surely still will be comfortable next year, but with the direction the industry's moving, there's no telling what's next.
"I used to just go fast on groomed blue runs, but Diane here taught me that groomed is a four-letter word," Servinsky said. "Now we go on hikes. These boots will be so much lighter — a half-pound lighter. This sounds like the only boot I want to get."
To reach Joel Reichenberger, call 970-871-4253 or email jreichenberger@SteamboatToday.com