Steamboat cheerleading takes 2nd in coed competition
Tuesday, November 15, 2011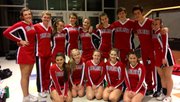 Steamboat Springs — The Steamboat Springs High School cheerleading team finished second Saturday at Douglas County High School. It was the first time the team has competed in the coed division.
"It was going in there and seeing how we scored and figuring out where we can improve," Coach Shannon Uris said. Nine of the squad's 14 members were competing for the first time. "Next week is going to be the same way."
Steamboat travels Saturday to the Denver Coliseum to compete in the Universal Cheer Association, with hopes of getting a bid to nationals.
In Douglas County, the team saw the best the state has to offer. Last year, Douglas County finished first at the state meet.
Uris said despite the nerves, the team's first foray into the coed division yielded better results. She said the team's score of 68 points was higher than its typical performance in past years. By the state meet, Uris expects that score to be in the high 80s.
The team began training in August and has spent the past couple of months dialing in its routine.
"It was very exciting, and it's just something really impressive to see," captain Owen McIntosh said about the routine. "In coed, it's a different arena to do more stuff."
Uris said the team now will adjust its focus.
"Our first goal with our first routine is to go out and hit it," she said. "After that it's a matter of cleaning and tweaking based on the judges' comments."
After this weekend's event, the team has its eyes on the Dec. 9 state championships at the Denver Coliseum.
"We still want to get top 10 at state," Uris said. "We're not changing that goal."
— To reach Luke Graham, call 970-871-4229 or email lgraham@SteamboatToday.com