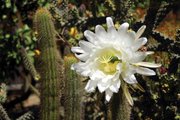 Deb Babcock
Deb Babcock's gardening column appears Mondays in Steamboat Today.
Find more gardening columns here.
Sometimes, when I drive to and from my studio, I listen to classical music. I find it calming and not as intrusive as talk radio or popular music. A couple of weeks ago, the beautiful composition called "L'horloge de flore" (A Musical Flower Clock) by French composer Jean Françaix was on my car radio. It made me curious about flower clocks and Carl Linnaeus and Françaix.
Carl Linnaeus, an 18th-century Swedish biologist, is considered the father of modern taxonomy, meaning he's the one who is responsible for the botanical names we attach to plants. But that's a story for another column.
Linnaeus also observed that certain plants tended to open and close their flowers at particular times of the day and that this closing and opening differed from species to species. With this in mind, he created a Flower Clock in which he arranged species in sequence by the time of day they opened and closed. The idea was that a person could figure out what time it is by looking at which flowers were open and which ones were closed.
Of course, his list would differ from a floral clock we might grow here for the same purpose since the opening and closing times for many flowers that grow here in the mountains vary depending upon latitude, climate and other variables. Plus, some of the plants he might include in his Swedish garden wouldn't grow here.
Linnaeus categorized flowers into three types based on when and why they open at certain times of the day. Meteorici is a group of flowers that depend upon weather conditions to decide when to open and close; Tropici flowers base their opening and closing hours on the length of daylight; and Aequinoctales are flowers that have a fixed time to open and close no matter the weather or season.
Some of these Aequinoctales flowers that operate on a set schedule include the nightblooming cereus, morning glories, African daisies, gentians, orange hawkweed, marigolds, four o'clocks (duh!), evening primrose, moonflower, daylilies and dandelions.
In his 1959 musical composition, Françaix gives the hour of the day and the French botanical and English names of the plants he chose to represent in his musical garden. His concerto for oboe and orchestra included such flowers as day jessamine for 3 a.m.; Cupid's dart for 5 a.m.; nightblooming cereus for 10 a.m.; night-flowering jasmine for noon; moonflower for 5 p.m.; geranium for 7 p.m.; and night flowering catchfly for 9 p.m. He was commissioned to create this composition by the principal oboist of the Philadelphia Orchestra. It premiered in 1961 with Eugene Ormandy as the conductor.
Most gardeners don't attempt to create a flower clock based upon telling time by open and closed flowers because it is so difficult to illustrate the concept with flowers that look good together and meet the open/closed criteria.
Instead, gardeners generally create a clock-shaped flower bed with flower color and shapes being used to differentiate the hands and numbers on the dial.
Deb Babcock is a master gardener with the CSU Extension Office Routt County. Call 970-879-0825 with questions.