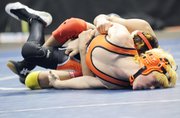 Steamboat Springs — As much as hockey sticks, skis, basketballs and wrestling shoes matter, the start of high school winter sports also lends itself to another essential piece of equipment: a trash can.
"It was a popular place to be next to that thing," Steamboat Springs boys basketball coach Luke DeWolfe said. "We had an intense camp. Kids were climbing up stairs on all fours going backwards."
The high school winter sports season officially begins Friday. It's time for athletes to get back into shape, or at least maintain the fitness level they had from fall sports.
For a lot of teams, Friday's date is nothing more than a formality. The Colorado High School Activities Association allows for teams to hold a one-week conditioning camp the week before the official start of the season.
At Steamboat Springs High School, Friday signals the beginning of the girls and boys basketball, hockey, Alpine and Nordic skiing, and wrestling seasons. In Hayden and Soroco, basketball and wrestling commence.
"We mostly want guys to cut a few pounds and get our good wind back," first-year Hayden wrestling coach Chad Jones said. "But most of it will be getting everybody back healthy and get ready for a long season."
Teams officially were allowed to start practicing Friday with a scrimmage allowed Thursday or later. Teams can start playing games Nov. 30.
For some teams, like the Steamboat hockey team, the first practice and subsequent practices serve as a tryout process.
Although the Sailors have been skating voluntarily for weeks, Friday also marks the first time the team can try to impress the coaches.
"This week we ramp it up to our regular practice schedule," Steamboat hockey coach Jeff Ruff said. "This time of year is when we get our football players back on skates. We get our fall sports athletes back on ice. We're able to hone our skills and be ready when tryouts roll around tomorrow."
— To reach Luke Graham, call 970-871-4229 or email lgraham@SteamboatToday.com