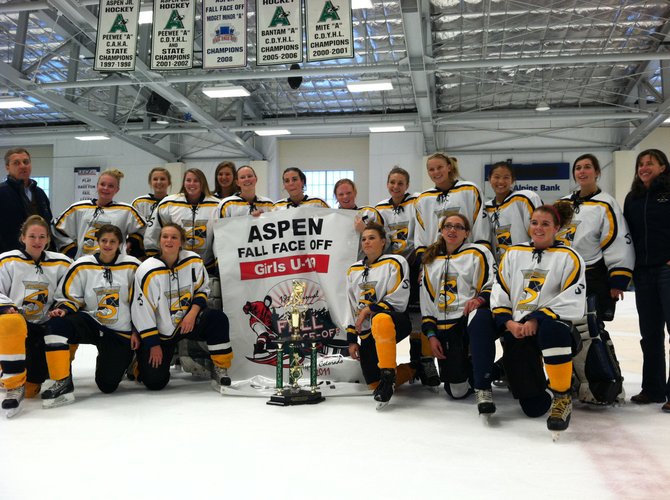 Steamboat's U19 girls hockey team wins Aspen tourney
Tuesday, November 8, 2011
Steamboat Springs — One of Steamboat Springs' most successful hockey teams is starting the new season like it ended the last one.
The two-time defending state champion Steamboat Springs U19 girls hockey team started its 2011-12 campaign with its second straight Aspen Fall Faceoff tournament win.
The team went 4-1 throughout three days to win the tournament.
"They are really a lot of fun to watch," coach Kent Foster said. "When they get it going, I just get out of the way."
Steamboat opened the season Friday with a 5-2 win against Team New Mexico.
The team then lost, 3-1, to the Colorado Select U16 AA team before beating Aspen, 4-0, to close out pool play in third place on Saturday.
That meant a rematch with the Colorado Select team on Sunday. Steamboat bounced back, winning, 4-0, to set up a championship game with Aspen.
The championship game was scoreless until Sara Stout scored the game-winner with less than two minutes remaining. Olivia Gorr added an empty-net goal to complete the 2-0 win.
Ellana Williams picked up her second shutout of the tournament, both against Aspen. Fellow goaltender Aleigh Aurin picked up a shutout in the semifinals against the Colorado Select team.
"They knew they had to play well," Foster said. "Against Aspen, they just put in a great game."
The team begins its Mountain States Girls Hockey League season this weekend in Denver. The girls are in a nine-team division with teams from across Colorado and one team from New Mexico.
Steamboat will play between 25 and 30 games this season. The season runs until the end of February.
The team's first home games are Dec. 9 to 11 at the Adele Dombrowski Memorial Tournament at Howelsen Ice Arena.
"I think they're looking forward to another strong season," Foster said.
— To reach Luke Graham, call 970-871-4229 or email lgraham@SteamboatToday.com