Girls on the Run
Photo Gallery
Girls on the Run 5K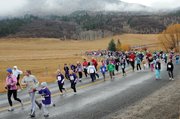 Nick Sunseri wins 5K event
The Girls on the Run event was preceded Saturday by a Steamboat Springs Winter Running Series 5-kilometer race, which trekked down the same course.
Nick Sunseri, the reigning summer Running Series champ, won the event, finishing in 16 minutes, 51 seconds.
Harry Niedl was second in the men's division, at 18:55, and Eddie Rogers third, at 19:43.
Dana Fitzgerald was the first woman finisher, in at 25:00. Johannah Hall was second in 25:15 and Rebecca Carcaterra was third in 25:45.
Steamboat Springs — They came in buses and vans, by bike and by trail, more than 500 young girls and their moms and dads, brothers and friends.
The mass of athletes took off from Steamboat Springs Middle School and flew through a five-kilometer course, sprinting and running and walking and even skipping their way through the huge Girls on the Run event that overtook the roads through Strawberry Park on Saturday morning.
The Girls on the Run organization seeks to empower young girls via fun activities, and
when it was over, it was clear that its message sunk in on the soggy Routt County roads.
"It was tiring, but it was a lot of fun," said 10-year-old Paige Barnes, a Hayden fifth-grader who made the trip to Steamboat with her mother and eight other students. "Girls on the Run is about having fun and learning to take care of yourself."
Girls on the Run is a nationwide 10-week program designed to teach young girls about health in terms of both habits and self image. The Northwest Colorado region of that program met Saturday in Steamboat Springs. About 150 of the participants were from local elementary and middle schools. Hundreds more ignored the forecasts for rain and snow and poured in to town, coming from nearby cities like Craig and Oak Creek and farther ones like Silverthorne and Edwards.
Together, they attacked the 5K course, which stretched from the middle school, out along Amethyst Drive and Routt County Road 36.
And the long line of 500 girls did it the way only they could.
"It was a lot of fun," said Steamboat's Bailey Hehr, a 10-year-old Soda Creek Elementary School student.
She ran the entire race side by side, and often arm in arm, with her friend Ava Scarborough, 9.
"It's about getting healthy and staying healthy," Bailey said. "It's about learning how to run and where to run."
The run wasn't timed, and every group of girls seemed to have a different approach. Paige paid attention to her time and noticed it was 10 minutes faster than a year ago, when she traveled to Grand Junction for the season-ending Girls on the Run 5K.
She slowed her pace only to catch her breath a few times Saturday, she said.
Many took her strategy, running fast and breaking free from the flock. Many more walked when they felt the need and jogged other times. Some walked dogs and others were flanked by their families, a mom or a dad at times pushing a baby stroller.
Fast or slow through the race, most managed a quick finish, flowing downhill toward the school with ponytails wagging and smiles a mile wide.
"It was awesome," said Shelly Barnes, Paige's mother. "The girls get a lot out of it, and the exercise is great. Just to do a 5K at this age is really impressive."