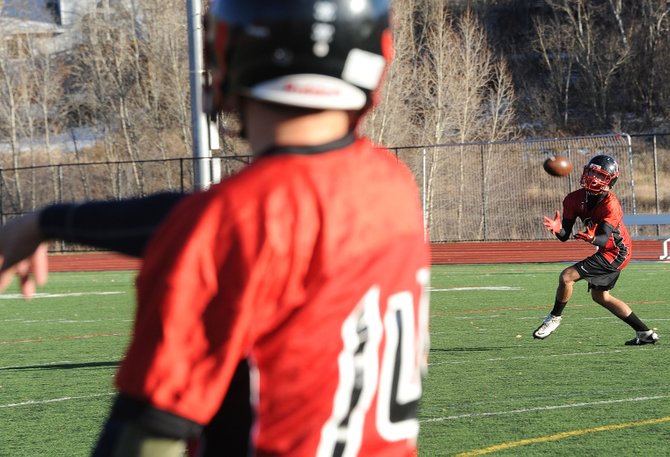 Steamboat football faces Moffat County on Friday
Thursday, November 3, 2011
2011 Sailors football schedule
Steamboat Springs — No one inside the Steamboat Springs High School football team's locker room thinks this season has been a success. That's what happens when a team goes 0-9 to start a season and has compiled 20 consecutive losses.
But what better way to erase some of those bad memories, start next season on a positive note and finally get some good vibes around the program than beating Moffat County at 7 p.m. Friday at home.
"Man it would feel really good," said Evan Hornstein, one of Steamboat's three seniors. "It's my final game. I'm going to play as hard as I can and do as much as I can."
In a game formally reserved and chock-full of playoff implications, Friday's contest has been reduced to a battle of pride.
Neither the Sailors (0-9, 0-6) nor the Bulldogs (2-7, 2-4) will be playing beyond Friday's contest, but the rivalry remains one of the best around.
"It's a our natural rival, and those games are always fun," Steamboat coach Lonn Clementson said. "We want to get a win for our seniors and the program."
In addition to Hornstein, Tyler Brown will play his last game. Fellow senior Jake Manning is out with an injury. 
"The next step is to start winning again," Manning said. "We won't forget the last couple of years and the growth we've had this season."
Both teams come into the game beat up. The Bulldogs have multiple injuries, and the Sailors will be without Manning and likely starting quarterback Christian Ramirez, who injured a hand earlier this week. 
The Sailors will have to limit the Bulldogs' touches on offense if they want a shot at winning. The team has struggled mightily on defense this year, giving up an average of  47.5 points per game this year, more than any other 11-man team in the state.
"Our key is to not allow big plays defensively," Clementson said. "They consistently move the ball. Defense has been a staple here for a while, but this year it hasn't been. We have to limit them on offense and keep them off the field. We know we've been at a disadvantage depth wise and speed wise against a lot of teams. We think we match up pretty well with Moffat."
— To reach Luke Graham, call 970-871-4229 or email lgraham@SteamboatToday.com