Photo Gallery
East Steamboat flooding, May 31, 2011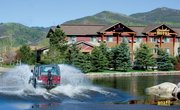 Steamboat Springs — Clay Rogers says the water went from a just trickle to raging in two hours Monday afternoon along U.S. Highway 40.
Rogers is co-owner of Snow Country Nursery, which is struggling to stay dry at its new location next to Steamboat Christian Center on the city's south side. He said he was working on irrigation lines when the water started to rise.
"I turned around and it just came like that," Rogers said.
Temperatures are getting higher and so is the water in the Yampa River, which overflowed its banks and flooded areas near the city limits on the southeastern edge of town.
Rogers said he had a big tree installation planned for Tuesday, but that would not happen because of the water now inundating the nursery. Instead he was moving some of the 300 trees out of the water.
"It won't damage the trees," Rogers said. "We just don't want them to float away."
Several driveways near the Steamboat Hotel off U.S. Highway 40 were under a foot of water Tuesday. The water was about 60 feet from the main entrance to the hotel.
"Definitely this is going to affect business," hotel owner Jay Wetzler said.
He has owned the hotel for 30 years.
"The scary thing is we're not even close to peak run-off," Wetzler said. "We're at least two weeks away."
Wetzler said that's just his guess, but his may be as good as anyone's when it comes to when runoff will peak and how high the water will get in local rivers and creeks.
"I don't know how good, bad or anything it's going to be," city of Steamboat Springs Street Superintendent Doug Marsh said.
Marsh said flooding has not caused any major damage in the 33 years he has been here.
"That's not to say it won't happen," he said.
Routt County Office of Emergency Management Di­r­ector Bob Struble said with the forecasted high temperatures — today's high is expected to reach 77 degrees — it's safe to say the much anticipated melting of record amounts of snow from upper elevations finally has begun.
The Tower measuring site at 10,500 feet on Buffalo Pass measured another state record Sunday with 80.1 inches of water contained in 178 inches of snow. By Tuesday, the snow water equivalent had dropped to 78.8 inches.
"With temperatures expected to go above average, you'll start to see snowmelt accelerate and rivers rise," said Jim Daniels, a meteorologist with the National Weather Service in Grand Junction.
High temperatures through the week are expected to be in the low to upper 70s.
That is reflected in the Weather Service's forecast for the Yampa and Elk Rivers.
The Yampa was measuring 6 feet Tuesday afternoon at the Fifth Street Bridge measuring station. By early Friday morning it's expected to reach 7.2 feet, which is above the 7-foot stage at which the Weather Service will send out flood advisories. By Sunday morning the Yampa is expected to reach 7.3 feet. The Yampa's flood stage is 7.5 feet at the Fifth Street bridge location.
The Elk River already has reached the action flood stage near its confluence with the Yampa and is expected to rise to 8.1 feet by 6 a.m. Friday. The moderate flood stage at the measuring site near Milner is 8.5 feet.
"I think we're going to see a prolonged (runoff) event," Struble said. "I think this will last most of June. I think we'll see above average flows into July."
Struble said the high water currently affecting parts of the county is not unusual.
"I can't predict how high it's going to go," he said.
For many this spring, there is a sense of anticipation and uncertainty.
"I have no idea how high it will flood," longtime resident Curt Weiss said. "It has some potential of getting big."
Weiss has lived in Steamboat for 35 years and owns the Walton Pond Apartments near the area affected by flooding Tuesday. Weiss hoped the flooding was the result of a damaged riverbank. Instead, he found the water was coming over the banks of the Yampa in numerous places.
"This surprises me," Weiss said while surveying the flooded areas Tuesday morning. "We haven't had water get in over here before."
— To reach Matt Stensland, call 970-871-4247 or email mstensland@SteamboatToday.com