Photo Gallery
Hayden auto body and refinishing clas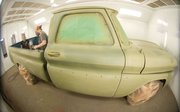 For more
For more information about summer courses at the Babson-Carpenter Career and Technical Education Center in Hayden, call Kevin Kleckler at 970-276-3761 or email him at kkleckler@haydens...
Steamboat Springs — Because of the Hayden School District vocational program, Kelsea DeBowes has an idea what she wants to do with her life. The junior also knows what she doesn't want to do.
She and fellow junior Beth Leck pained a 1964 Chevy pickup a metallic blue Tuesday morning in the auto body collision and refinishing class at the district's Babson-Carpenter Career and Technical Education Center.
DeBowes, who already has several welding certifications, has taken a variety of vocational classes during her first three years of high school. But this was her first auto body class.
"Getting a head start, it really helps," DeBowes said about the vocational classes she's taken. "You realize what you're getting yourself into later in life. I now know that in college, I don't want to do auto body."
This school year was the third for the Babson-Carpenter center. Career and Technical Education Director Kevin Kleckler said about 80 students were in enrolled this year in beginning, advanced and college welding classes, automotive mechanics and auto body.
Kleckler, who teaches the classes, said it was a goal to create a facility that would teach students trades that would allow them to provide for their families.
"We have kids that go to Cornell and kids who go straight into the work force," he said. "As a school, we have a huge obligation to students. We need to do everything to make sure they're ready to be successful."
In addition to teaching high school students, Kleckler also is teaching night and summer welding and automotive courses. He said adult students, 48 this year, come from as far away as Baggs, Wyo., Rangely and Meeker, as well as throughout Routt County.
Kleckler said the adult classes are starting to generate revenue for the district. The high school classes already have churned up some dollars for the school system, from the sale of student-built restored cars, picnic benches, trailers and other projects, for which students get a portion of sales.
Superintendent Mike Luppes said Babson-Carpenter has generated about $96,000 for the district in its first three years. He said it's helping pay back the nearly $400,000 the district contributed to the $1.6 million project.
Luppes said the intention was for the facility to generate revenue, and he hopes it will make more. He said the facility and vocational programs have been good for Hayden.
"It's provided a lot of opportunities for our students as well as the little financial boost during some lean times around here," he said.
Kleckler was pushing DeBowes and Leck to finish painting the pickup before school ended Thursday.
While DeBowes said she could begin a career after college that would require her to work with her hands, Leck said that isn't the path she'll take.

Leck said she took auto body because she thought it would provide her with another skill if plans to become a dental hygienist don't work out. And it's been fun, she said.
"It's an awesome experience," Leck said. "It's nice to learn something else besides English, Science, etc."
To reach Jack Weinstein, call 970-871-4203 or email jweinstein@SeamboatToday.com