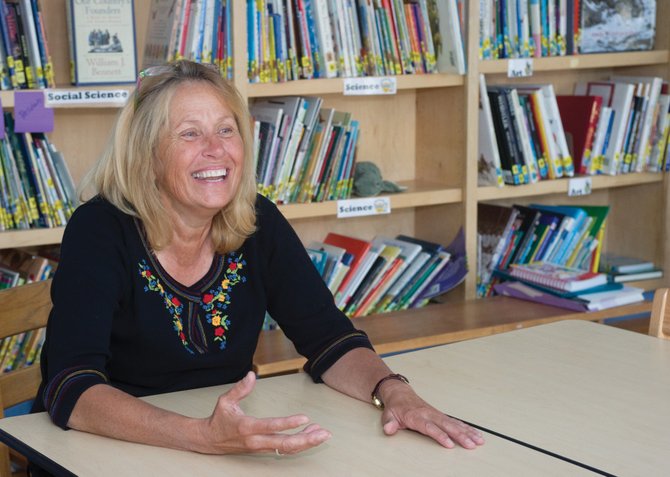 Steamboat's Lowell Whiteman to give Spillane a proper sendoff
Whiteman Primary to honor longtime director with tribute Wednesday
Past Event
Wednesday, June 1, 2011, 6:30 p.m. to 8:30 p.m.
Strings Music Festival, 900 Strings Road, (Corner of Mt. Werner Rd & Pine Grove Rd), Steamboat Springs
Not available
Steamboat Springs — Lowell Whiteman Primary School's Nancy Spillane wanted to retire quietly. She won't get that chance.
The Whiteman Primary founder and its only head of school will be honored during a farewell event from 6:30 to 8:30 p.m. Wednesday at Strings Music Pavilion. The event will include a musical tribute, speakers, and coffee and dessert.
"I just want to end the week by finishing my classes and teaching the little ones and say, 'OK, I did my job,' and just go away," Spillane said.
But the Whiteman Primary family wouldn't allow that to happen.
Whiteman Primary School admissions director Debbie Gooding said faculty and staff have been planning Spillane's farewell since fall. She said the students got on board in January.
"Nancy is our founder. She's run this school for 18 years," Gooding said. "We were very sad to have her leave but excited about her opportunities. We wanted to do something to recognize her and let her know how much what she's done means to everybody who's ever been to the primary school. We want to recognize and honor her time here."
Spillane started the school in 1993 with 32 students in the old Steamboat Springs Police Department building. She has continued to teach during the years as the school moved to a building students helped design adjacent to St. Paul's Episcopal Church on Oak Street. The school has grown throughout the years to its current enrollment of 63 students.
Gooding said Wednesday's event will include a slideshow of pictures from throughout the years. She said alumni from different periods in the school's history will speak. And the students will perform, singing and playing their stringed instruments — Spillane created Whiteman Primary's Music Through Strings Program in 1999-2000.
Tickets are very limited, Gooding said.
Spillane said she and her husband, Jim, plan to spend six months abroad starting in late June. She said they would travel to Israel and perhaps Jordan and Egypt before heading to Thailand, New Zealand and Turkey. They plan to return to Steamboat before Christmas.
After years of travel as faculty at The Lowell Whiteman School and following son Johnny's career with the U.S. Ski Team, Spillane said she and Jim wanted to visit places they've never been. She joked that "there aren't any ski jumps in Tel Aviv."
But first she'll be honored during the farewell event, which will bring together hundreds of past and present Whiteman Primary students, families, staff and friends.
"I'm surprised and I'm absolutely thrilled, but it's a little overwhelming, actually," Spillane said. "It's a lot of stuff, and I keep thinking I wasn't that big a deal. I just wanted to teach kids how to read. Everyone is being so very generous. It's really nice."
To reach Jack Weinstein, call 970-871-4203 or email jweinstein@SteamboatToday.com
More like this story