April showers bring sagging real estate sales in Routt County
Steamboat Homefinder
Visit SteamboatHomefinder.com for more real estate news.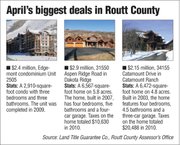 Steamboat Springs — April was a slow month for real estate closings in Routt County.
Statistics researched by Land Title Guarantee Co. show that year-over-year April dollar volume was down 39.5 percent compared with April 2010 and transaction volume was off 30.77 percent, though this year's year-to-date transaction volume of 455 sales is up 9.4 percent from 2010.
It's a different story with year-to-date dollar volume, which is down 28.9 percent to $127.55 million from 2010, when sales through the fourth month of the year had reached $179.35 million.
April 2011 marks the first month of the year for which transaction volume did not exceed 100 units.
Ulrich Salzgeber, of Buyer's Resource Real Estate, said the total number of pending contracts in the Steamboat Springs Multiple Listing Service as of Thursday was 97, with 89 of them concerning residential properties. There are five pending land sales, Salzgeber said, and three commercial properties.
The highest monthly dollar volume thus far in 2011 was $42 million in January.
Nine sales of homes valued at $1 million or more accounted for 59 percent of the dollar volume attributable to residential unit sales in April.
Land Title's research reveals how the area at the base of Steamboat Ski Area is critical to the local market. That area had the greatest number of sales in April — 18 — and a median transaction price of $350,000 with $10.54 million in volume. That compares with $29.74 million in total sales at the mountain in April 2010, with a median transaction value of $720,000 on 33 sales.
Kathryn Pedersen, a mortgage lender with Yampa Valley Bank, said based on activity in her office, she expects the closing sales numbers for May to show improvement.
"We've been super busy, and it's all purchases," Pedersen said. "We don't have any refi's in the pipeline right now."
Land Title reported that April 2011 loans total 112 compared with 160 in April 2010. Wells Fargo led Routt County lenders in April with 23 loans.
The number of bank sales at the mountain in April 2011 was up moderately to nine from seven in April 2010. However, the dollar volume was down to $3.04 million from $4.16 million.
— To reach Tom Ross, call 970-871-4205 or email tross@SteamboatToday.com