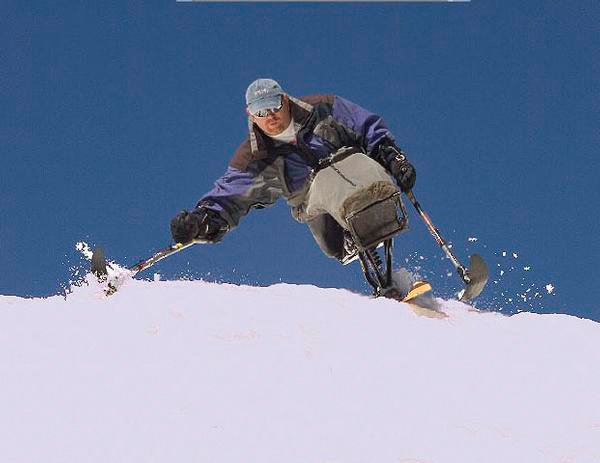 Former Steamboat resident dies in Arapahoe Basin skiing accident
Jack Michael Wade lost the use of his legs 25 years ago, but he never lost his spirit of adventure.
Wade, 51, a former Steamboat Springs resident who most recently called Golden home, died in a skiing accident at Arapahoe Basin on Thursday after crashing hard on his sit ski.
"He lived to ski — he loved to ski," said Richard "Steve" Wade, his brother. "He was amazing."
Born in Denver, Wade started skiing while he was a student in Skinner Middle School, Steve Wade said.
He graduated from North High School and moved to Steamboat Springs as a young adult where he worked as a drywall installer and at the Tugboat Grill & Pub in Ski Time Square. Wade skied every chance he got, his brother said.
In 1986, Wade got into a traffic accident, along with another brother, Spencer, who was also in the truck.
The pair were driving near Steamboat when a vehicle side-swiped their pickup, Steve Wade said. Neither man was buckled-in and both were tossed from the truck, which rolled end-over-end down the side of a mountain.
Spencer Wade suffered multiple injuries but made a full recovery. Jack suffered spinal cord injuries and his life as a paraplegic began.
"He never let it get him down," Steve Wade said. "He had a really positive attitude. He was always upbeat."
Beside skiing, Wade enjoyed and excelled at paraplegic cycling and he often rode his bike, which he pedaled using his arms and hands, on a trail over Vail Pass.
Wade was celebrating his 25th year of paraplegic skiing this season.
He has been married for 32 years and is survived by his wife, Vicki, and their daughter, Tash; his parents, Richard and Jacque Wade; brothers, Jerry, Spencer, Steve; sisters, Jill Wade Larsen, Stephanie Wade DeMott, Cheryl Wade Casados; and his mother-in-law, Carole Harrison. Memorial services are pending.
Wade had a great sense of humor and loved playing practical jokes.
At a recent, family dinner spare ribs were served and Wade chowed down, stripping rib after rib, down to the bone. He slyly left a pile of bones on the plate of his sister, Stephanie, who is a vegetarian.
"Everyone was trying to determine who was eating all the ribs and he blamed it on Steph," Steve Wade recalled. "He did it, of course, with a little boy smile."
Click here for the original Denver Post version.